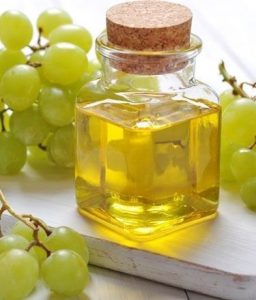 Grape seed oil, a byproduct of winemaking, is extracted from grape seeds early in the process, yielding a pale-colored oil. This versatile oil is utilized in food for salad dressings and cooking, as well as in skin and hair care. Recognized for its extreme lightness, grapeseed oil quickly absorbs into skin and hair, preventing clogging of hair follicles or scalp buildup. Unlike coconut oil, which solidifies below 78 degrees F, grapeseed oil remains liquid at room temperature, making it a suitable ingredient for various beauty treatments.
Enriched with vitamin E, omega-6 fatty acids, linoleic acid, and potent antioxidants, grapeseed oil possesses moisturizing properties that can soften and hydrate hair, potentially stimulating growth. Its high concentration of phenolic compounds, functioning as antioxidants, effectively shields the hair from UV damage.
Compared to pricier vegetable oils, grapeseed oil is more economical, allowing for inclusion in regular beauty routines. It harmonizes well with oils like rosehip, jojoba, and sweet almond, along with essential oils for fragrance. It serves as an effective sealant to lock in moisture; for optimal results, ensure your hair is well-moisturized and slightly damp before applying grape seed oil.
Here are five practical applications to introduce grapeseed oil into your hair care routine
1. Tame Frizz and Style Hair
Apply grapeseed oil directly to wet or dry hair to tame frizz or flyaway hair and maintain a parting. The quantity required depends on hair length, thickness, and dryness. Coarse, dry hair may benefit from daily use, while thinner hair types might find it suitable for weekly application. Begin with a dime-sized amount, warming it between your palms and smoothing it over the hair or curls.
2. Create a Lightweight Hair Mask
For a lightweight mask that provides quick conditioning or for those with thin or fine hair, combine 1/3 cup aloe vera gel with 1 teaspoon grapeseed oil and 4-5 drops of lavender essential oil. Adjust amounts for longer or thicker hair. Apply the mixture to coat the hair, leave it on for at least 20 minutes, then rinse before shampooing and conditioning.
3. Develop a Scalp Treatment
To moisturize the scalp and stimulate blood circulation, combine a tablespoon of grapeseed oil with 2-3 drops of peppermint essential oil. Massage this blend into the scalp, including behind the ears, to reduce dandruff and encourage new cell growth. Leave it on or rinse it out after 10-15 minutes.
4. Enhance Your Conditioner
Boost the moisturizing effect of your regular conditioner by adding 6-8 drops of grapeseed oil. Apply, leave on while showering, and rinse as usual.
5. Overnight Intensive Moisturizing Mask
For a deeply moisturizing mask, combine 2 tablespoons each of grapeseed oil, coconut oil, and avocado oil with a few drops of essential oil. Warm the oils and apply to your hair, leaving it on for three hours or overnight. Protect your hair with a shower cap and towel. Rinse thoroughly and shampoo before styling.