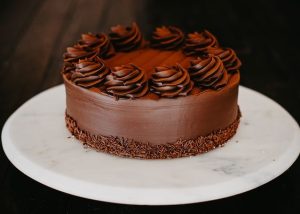 Few desserts evoke the same level of universal delight as a sumptuous, moist, and delectable chocolate cake. Whether it's for a celebration, a sweet craving, or simply to relish a moment of pure indulgence, the allure of a well-made chocolate cake is irresistible. With this delightful recipe in hand, embark on a culinary journey to create a chocolate cake that tantalizes the taste buds and captures the hearts of all who savor it. Whether it's a special occasion or a sweet treat for yourself, this homemade chocolate cake promises to be the ultimate indulgence, inviting you to revel in the pleasures of exquisite baking and the timeless charm of chocolate decadence. Crafting this classic dessert is an art, and here's an exquisite recipe to create your own irresistible chocolate masterpiece.
Ingredients
For the Cake
1¾ cups all-purpose flour
1¾ cups granulated sugar
¾ cup unsweetened cocoa powder
1½ teaspoons baking powder
1½ teaspoons baking soda
1 teaspoon salt
2 large eggs, at room temperature
1 cup whole milk
½ cup vegetable oil
2 teaspoons pure vanilla extract
1 cup boiling water
For the Chocolate Frosting
1 cup unsalted butter, softened
3½ cups powdered sugar
½ cup unsweetened cocoa powder
4-5 tablespoons whole milk or heavy cream
1 teaspoon pure vanilla extract
A pinch of salt
Instructions
1. Cake Preparation
Preheat your oven to 350°F (175°C). Oil and flour two 9-inch round cake pans. Using a large bowl, mix together the flour, sugar, cocoa powder, baking powder, baking soda, and salt. Add your eggs, milk, vegetable oil, and vanilla extract to the dry ingredients. Stir on medium speed for 2 minutes until well combined. Stir in the boiling water. The batter will be thin but that's the desired consistency.Pour the batter evenly into the prepared cake pans. Bake the mixture for about 30-35 minutes or until a toothpick inserted into the center comes out clean. leave the cakes to cool in the pans for 10 minutes before transferring them to wire racks to cool completely.
2. Frosting Preparation
Using a bowl, stir the softened butter until creamy. Gradually add the powdered sugar and cocoa powder, beating until smooth and well combined. Add the milk or cream, vanilla extract, and a pinch of salt. Beat on medium-high speed until the frosting is fluffy and spreadable. Balance the consistency by adding more milk or powdered sugar as needed.
3. Assembling the Cake
Once the cakes are completely cooled, place one cake layer on a serving plate or cake stand.Spread a generous layer of chocolate frosting on top of the first cake place the other cake layer on top of the frosting. Frost the top and sides of the cake with the remaining chocolate frosting using a spatula or icing smoother. For added decoration, garnish with chocolate shavings, sprinkles, or fresh berries.
Tips for Success
Ensure all ingredients are at room temperature for a well-blended batter. Sifting dry ingredients prevents lumps and ensures a smooth cake texture. Don't overmix the batter after adding the boiling water; mix until just combined. For a rich flavor, use high-quality cocoa powder. Always Level the cake layers before frosting for a professional-looking finish. Allow the cakes to cool completely before frosting to avoid melting the frosting.