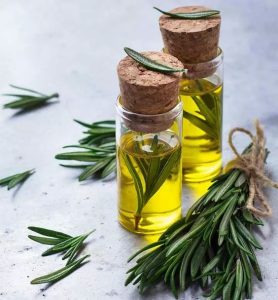 When you think of rosemary oil, food might come to mind first. However, this versatile oil offers not just a pleasant aroma but also numerous beauty benefits, transforming your skincare routine naturally.
Here are the various ways rosemary oil can enhance your skin naturally
1. Improved Circulation
Rosemary oil enhances blood circulation when applied topically. This increased blood flow delivers essential nutrients and oxygen to skin cells, promoting a healthier, more vibrant complexion.
2. Cleansing and Clarifying
Rosemary oil's natural antiseptic and antimicrobial properties make it excellent for combating bacteria causing breakouts. Adding it to your face cleanser can effectively reduce acne occurrences.
3. Anti-aging Effects
Rich in antioxidants, rosemary oil fights free radicals, slowing the aging process. Regular use reduces fine lines, wrinkles, and age spots, giving your skin a more youthful appearance.
4. Moisturizing and Hydrating
Rosemary oil is an excellent moisturizer and hydrator, retaining skin moisture and preventing water loss. Its nourishing properties provide intense hydration, suitable for all skin types, including dry and sensitive skin. Incorporating it into your moisturizer ensures supple and hydrated skin.
5. Calming and Soothing
With natural calming properties, rosemary oil alleviates skin irritation, redness, and inflammation. Particularly beneficial for sensitive or acne-prone skin, it helps soothe discomfort and promotes a balanced, even complexion when used regularly.