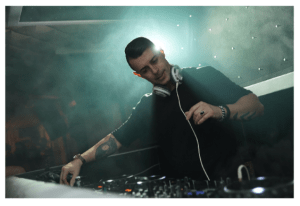 A DJ is a person who searches for, selects, and mixes music. A DJ can play live sets as well as create mixes, which is even more thrilling than cooking, The main idea of DJing is to find interesting music and broadcast it to the masses.
Two Types of DJs
The trend is that more and more DJs are switching over to digital, or rather using a flash drive together with a computer and a controller. They do their job – they provide the mood on the dancefloor, they get the crowd going, people leave the party happy. At the same time, they are not furnished with equipment, don't spend a lot of money to buy it and are responsible for the fact that everything will work and will not fail at the most inopportune moment. That is, everyone is happy and satisfied.
The advantages of using a flash drive: it's lightweight, inexpensive, roomy, and allows you to easily transfer music to and from your computer.
Disadvantages of using the flash drive: due to its small size, it is easy to lose, unreliability (especially when used often), as well as the high cost of players, in which you can stick the flash drive.
There are other members of this profession who traditionally use discs or vinyl records, turntables, remotes, controllers and a lot of different equipment. We classify them as "traditional" DJs. There's more creativity and improvisation in their work, definitely more pathos and a show built on their activity. There are less and less such DJs with the development of modern technology, but some customers and fans recognize only "traditional" DJs, not perceiving "digital".
The Equipment You Need
The minimum DJ kit is a computer, a controller and headphones.
A Laptop With a USB Input
One of the biggest challenges is finding the right laptop for the minimum price. There is no point in overpaying. As soon as you start making money, sell this computer and buy yourself a new Macbook Pro. For now just choose a laptop with a USB input and make sure that the program Serato DJ Lite is not lagging. Don't listen to salespeople who will assure you that their laptop is the best invention of mankind. Just arrange to be able to test the program on their laptop and in the case of "brakes" return the laptop.
In fact, you can even start with a phone or iPad, but I think that learning on mobile apps would be too complicated.
Controller
A DJ controller is a tool for controlling sound. With the controller, DJs control the playback of music, its volume, speed, as well as add effects, samples, and make smooth transitions from track to track.
Don't look at the DJs who buy themselves expensive controllers, etc. Don't even waste your time on expensive equipment reviews because you don't understand the nuances at all yet. Once you have enough experience you can make your choice about CDs, vinyl records or more expensive controllers. The important thing is to get started.
Headphones
To get started, again, you don't have to buy the most expensive "DJ" headphones. In fact, any "earplugs" will suffice. Headphones are used by DJs to control their actions and pre-listen to the music, not to enjoy its high quality (as many people think). You can use any headphones you want, such as those from a player or a phone. Don't take headphones labeled Extra Bass or similar because they will constantly hum in your ear and with long listening will start to hurt your head and your ears will get tired.
Software
You may be surprised, but the choice of controller largely depends on the software you want to work with. There are currently three leaders in the DJ software market. Their functionality is about the same, they allow you to mix, cut, loop, overlay effects, trigger samples, sync, and much more.
Native Instruments Traktor is a reliable and professional assistant in djing, an excellent option for beginners, despite the apparent complexity and intricacy. This software has managed to prove itself for many years on the market and has achieved amazing stability and performance.
Serato DJ is popular with fans of scratch, hip-hop, rap, which is explained by the possibilities of the extension "Scratch Live", which allows you to control the parameters of the program with regular vinyl or CD-players.
Pioneer DJ Rekordbox is a relatively young software with an excellent reputation. This software is based on Rekordbox, which is used to manage the music library where DJs analyze their music, which they then play on PIONEER CDJ and DJM. It is worth choosing this software if you plan to play in clubs or festivals.
Characteristics of the Pro
Playing crowd-pleasing music seems like a simple task. But it's not just about pressing the Play button on your console. To be a true pro, it takes much more than knowing how to handle the equipment. The profession requires constant development in the technical and mastering plan. Plus a certain set of psychological predispositions.
The most important trait – understanding people and accurately guessing musical tastes. Especially important at public events, where there are different people with different preferences. The task is not easy: not everyone will like it, but the repertoire must be chosen so as not to alienate anyone and so that everyone can find something for themselves. It's easier with themed events, when a certain genre of music is played.
If you want to get more bookings, you have to be as open and flexible as possible. And also sociable and assertive.
Remember: you are the host at the mixing desk, not the guests. So the ability to say "no" and resistance to stress will come in handy.