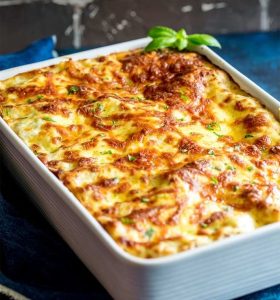 Lasagna, the hearty Italian pasta dish, has a special place in the hearts and palates of food enthusiasts around the world. Its layers of pasta, rich meat sauce, creamy béchamel, and melted cheese create a symphony of flavors and textures that never fail to impress. Homemade lasagna is a labor of love, a dish that brings people together through its comforting flavors and satisfying textures. By following this recipe, you can create a lasagna masterpiece that will delight your taste buds and leave your guests asking for seconds. So, roll up your sleeves, gather your ingredients, and embark on a culinary adventure that will result in a lasagna experience to remember.
Step-by-step process of crafting your own delicious homemade lasagna, perfect for family gatherings, dinner parties, or simply indulging in a cozy night at home.
Ingredients
For the Meat Sauce
1 lb (450g) ground beef
1 onion, finely chopped
3 cloves garlic, minced
1 can (28 oz) crushed tomatoes
2 cans (14 oz each) tomato sauce
2 tablespoons tomato paste
1 teaspoon dried basil
1 teaspoon dried oregano
Salt and pepper, to taste
2 tablespoons olive oil
For the Béchamel Sauce
4 tablespoons butter
1/4 cup all-purpose flour
4 cups milk
Salt, pepper, and nutmeg to taste
Additional Ingredients
12 lasagna noodles, cooked
2 cups shredded mozzarella cheese
1 cup grated Parmesan cheese
Fresh basil leaves, for garnish
Instructions
Making the Meat Sauce
In a large skillet, heat olive oil over medium heat. Add chopped onions and cook until translucent. Add minced garlic and cook until fragrant. Add ground beef and cook until browned, breaking it up with a spoon as it cooks. Add your crushed tomatoes in, tomato sauce, tomato paste, oregano, basil, salt, and pepper. Simmer it for about 20 minutes to allow the flavors to meld. Remove from heat.
Preparing the Béchamel Sauce
In a saucepan, melt butter over medium heat. Add flour and whisk continuously to form a roux. Cook for a few minutes until the roux turns golden. Gradually whisk in milk, ensuring there are no lumps. Cook the sauce, stirring constantly, until it thickens and coats the back of a spoon. Season the béchamel sauce with salt, pepper, and a pinch of nutmeg. Remove from heat.
Assembling the Lasagna
Preheat your oven to 375°F (190°C).Spread a thin layer of meat sauce at the bottom of a 9×13-inch baking dish. Place a layer of cooked lasagna noodles over the sauce. Spread a generous layer of meat sauce over the noodles, followed by a layer of béchamel sauce and a sprinkle of mozzarella and Parmesan cheese. Repeat the layers, finishing with a layer of béchamel sauce and a generous topping of mozzarella and Parmesan cheese. Cover the baking dish with aluminum foil and bake for 25 minutes. Remove the foil and bake for an additional 10-15 minutes or until the cheese is golden and bubbly. Let the lasagna rest for about 15 minutes before slicing. Finish off with fresh basil leaves before serving.
Buon appetito!