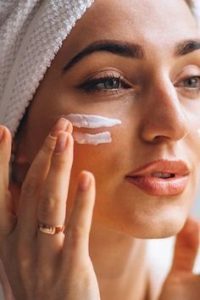 Concealing dark circles under your eyes, which can make you look tired, can be a challenge. Here are 10 effective beauty tips to help you hide them effectively.
1. Invest in a Quality Concealer: Get a concealer that matches your skin tone, has full coverage, and a creamy texture.
2. Apply Eye Cream: Use an eye cream with ingredients like hyaluronic acid or vitamin C to hydrate and brighten the under-eye area before applying concealer.
3. Color Correction: If your dark circles have a bluish or purple undertone, use a peach or orange color corrector before applying concealer to neutralize the dark hues.
4. Choose the Right Shade: Ensure your concealer shade matches your skin tone. Opt for a slightly lighter shade if you want to brighten the area.
5. Use a Makeup Sponge or Brush: Apply concealer using a makeup sponge or concealer brush for a smooth and even application. Blend it outwards to cover the dark circles.
6. Set with Powder: Set your concealer with a lightweight, translucent setting powder to prevent creasing and ensure long-lasting coverage.
7. Stay Hydrated: Drink enough water and use a hydrating under-eye cream to prevent dryness, which can accentuate dark circles.
8. Cold Compress: Use a cold compress, such as a chilled spoon or cucumber slices, to reduce puffiness and soothe the under-eye area before applying makeup.
9. Avoid Overloading: Don't use too much concealer, as it can settle into fine lines and appear cakey. Start with a small amount and add more if necessary.
10. Prioritize Sleep and Lifestyle: Adequate sleep, a balanced diet, and a healthy lifestyle can significantly reduce the appearance of dark circles over time. Taking care of your overall well-being is essential.