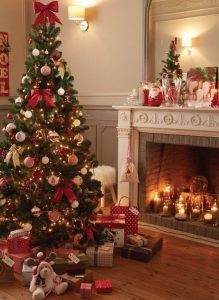 The festive Christmas season is a wonderful time for families to come together, create lasting memories, and celebrate the spirit of togetherness. From cherished traditions to exciting activities, there's a plethora of delightful ways to bond and enjoy quality time with your loved ones during this special time of the year.
Decorating Together
1. Trim the Tree: Gather around and decorate the Christmas tree as a family. Assign tasks, hang ornaments, and create a beautiful centerpiece for the holiday season.
2. Festive Home Décor: Get creative with DIY decorations. Make wreaths, garlands, or handmade ornaments together, adding a personal touch to your home.Culinary Delights:
3. Bake and Decorate: Spend a day baking Christmas cookies or gingerbread houses. Let everyone participate in decorating these sweet treats with icing, sprinkles, and candies.
4. Cook Together: Prepare a special Christmas dinner as a family. Assign different cooking tasks to each family member and enjoy the joy of creating a meal together.
Engaging Activities
5. Movie Marathon: Set up a cozy movie night with classic Christmas movies. Prepare popcorn, hot cocoa, and snuggle up for a heartwarming movie marathon.
6. Board Games or Puzzles: Unplug and engage in friendly competition with board games or puzzles. It's a great way to bond and have a lot of laughter.
Spreading Joy
7. Acts of Kindness: Spread cheer by volunteering as a family. Donate toys, visit nursing homes, or participate in community service activities to give back to those in need.
8. Christmas Caroling: Spread the joy of the season by caroling in your neighborhood or at local gatherings. Singing festive tunes brings smiles and warmth to everyone's hearts.
Outdoor Adventures
9. Ice Skating or Sledding: Enjoy the winter wonderland by engaging in outdoor activities like ice skating or sledding. It's a perfect way to embrace the festive season.
10. Visit Holiday Attractions: Explore Christmas markets, light displays, or visit a local holiday-themed event together, soaking in the magical ambiance.
Reflect and Share
11. Gratitude and Reflection: Take time to reflect on the year and share gratitude. Create a gratitude jar or simply sit together to share what you're thankful for as a family.
12. Family Traditions: Embrace and cherish family traditions passed down through generations, whether it's reading a favorite story or singing carols together.
The Christmas season is an opportunity to create treasured memories and strengthen family bonds. With a multitude of activities that cater to various interests and ages, there's something special for everyone to enjoy together. Embrace the joy, love, and warmth that come with spending time with your family during this magical season, making it truly memorable and cherished for years to come.