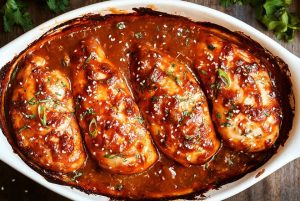 Fried chicken has long been a beloved dish, capturing hearts with its crispy exterior and tender interior. This recipe takes the classic fried chicken to a new level by combining crunchy perfection with a zesty, sweet, and spicy sauce. Get ready to tantalize your taste buds with this delightful culinary creation that's sure to become a favorite at your dining table. Indulge in the exquisite fusion of textures and flavors with this crispy fried chicken breasts recipe. The tender chicken, enveloped in a crunchy coating of rice cereal and almonds, provides a delightful contrast to the spicy-sweet sauce. This dish not only satisfies your fried chicken cravings but also elevates your dining experience with its unique taste. Gather your loved ones around the table and savor the irresistible combination of crispy perfection and bold flavors. Whether it's a family dinner or a festive gathering, these fried chicken breasts with spicy sweet sauce are guaranteed to make any occasion memorable. Enjoy the culinary adventure and relish every bite of this mouthwatering masterpiece!
Ingredients
For the Chicken
1 1/2 pounds chicken breasts, skinless, boneless, pounded to 1/2-inch thickness, and cut into 1-inch wide slices
1 cup low-fat buttermilk
3 cups crisp puffed rice cereal (preferably brown rice cereal)
1/2 cup sliced almonds, chopped
2 teaspoons sweet paprika
1 teaspoon granulated garlic
1/2 teaspoon kosher salt
1/2 teaspoon freshly ground black pepper
For the Spicy Sweet Sauce
1/3 cup Dijon mustard
2 tablespoons honey
2 tablespoons mayonnaise
Instructions
1. Marinating the Chicken: In a medium bowl, coat the chicken with buttermilk, ensuring all pieces are well-covered. Refrigerate for at least 20 minutes, allowing the chicken to absorb the flavors.
2. Preparing the Coating: Place the crisp puffed rice cereal in a resealable plastic bag and crush it with a rolling pin until it resembles coarse breadcrumbs. Transfer the crushed cereal to a shallow bowl. Add chopped almonds, sweet paprika, granulated garlic, salt, and pepper. Mix well to combine.
3. Coating the Chicken: Remove the chicken pieces from the buttermilk marinade, allowing excess to drip off. Dip each piece into the cereal-almond mixture, ensuring they are evenly coated on all sides. Press lightly to help the coating adhere.
4. Baking the Chicken: Preheat the oven to 425 degrees Fahrenheit. Place a wire rack on a large, rimmed baking sheet lined with aluminum foil. Arrange the coated chicken pieces on the rack and bake for approximately 12 minutes or until the chicken is cooked through and golden brown.
5. Making the Spicy Sweet Sauce: In a small dish, combine Dijon mustard, honey, and mayonnaise. Stir until well combined.
6. Serving: Serve the hot or warm crispy fried chicken breasts with the spicy sweet sauce on the side for dipping. Garnish with fresh herbs like parsley or chives for a vibrant touch.