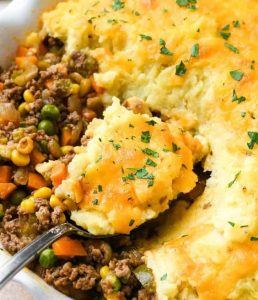 Shepherd's Pie, a beloved comfort food, is a hearty and flavorful dish that has stood the test of time. Originating from the United Kingdom, this classic recipe combines seasoned ground meat, vegetables, and creamy mashed potatoes into a delectable casserole. Shepherd's Pie is a timeless dish that never fails to satisfy with its comforting flavors and hearty textures. Whether you're preparing it for a family dinner or a special occasion, this classic recipe is sure to impress. Embrace the warmth and nostalgia of homemade Shepherd's Pie, and enjoy the delightful combination of savory meat, vegetables, and creamy mashed potatoes.
Ingredients
For the Filling
1 lb (450g) ground lamb or beef
1 large onion, finely chopped
2 carrots, diced
2 cloves garlic, minced
1 cup peas, fresh or frozen
1 tablespoon tomato paste
1 cup beef or vegetable broth
1 teaspoon Worcestershire sauce
Salt and pepper, to taste
2 tablespoons olive oil
For the Mashed Potatoes
4 large potatoes, peeled and cut into chunks
1/4 cup butter
1/4 cup milk
Salt and pepper, to taste
For the Topping
1/2 cup shredded cheddar cheese (optional)
Fresh parsley, chopped (for garnish)
Instructions
Preparing the Mashed Potatoes: Boil the potatoes in salted water until tender. Drain and return them to the pot. Mash the potatoes with butter, milk, salt, and pepper until creamy and smooth. Set aside.
Making the Filling: In a large skillet, heat olive oil over medium heat. Add chopped onions and cook until translucent. Add minced garlic and stir until fragrant. Add ground lamb or beef, breaking it up with a spoon, and cook until browned and cooked through. Add diced carrots and peas to the meat mixture. Cook for a few minutes until the vegetables start to soften. Stir in tomato paste, Worcestershire sauce, salt, and pepper. Pour in the broth and simmer until the mixture thickens. Remove from heat.
Assembling the Shepherd's Pie: Preheat your oven to 375°F (190°C).Transfer the meat and vegetable mixture into a baking dish, spreading it evenly. Spoon the mashed potatoes over the filling, spreading them to cover the entire surface. Create a decorative pattern with a fork if desired. If you prefer, sprinkle shredded cheddar cheese on top of the mashed potatoes for a golden and cheesy crust. Bake in the preheated oven for 20-25 minutes, or until the top is golden and the filling is bubbling.
Remove from the oven and let it cool for a few minutes before serving .Garnish with chopped fresh parsley for a burst of color and freshness.
Happy cooking!