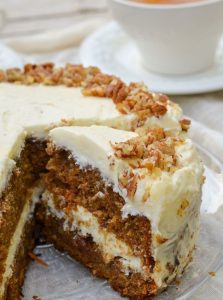 Carrot cake is a delightful dessert that's loved by many. Here's a classic recipe for making a moist and flavorful carrot cake
Ingredients
For the Cake
2 cups all-purpose flour
2 cups granulated sugar
1 teaspoon baking powder
1/2 teaspoon baking soda
1/2 teaspoon salt
1 teaspoon ground cinnamon
1/2 teaspoon ground nutmeg
1/2 teaspoon ground ginger
1 cup vegetable oil
4 large eggs
2 cups grated carrots (about 3-4 medium carrots)
1 teaspoon vanilla extract
1 cup crushed pineapple, drained
1/2 cup chopped walnuts or pecans (optional)
For the Cream Cheese Frosting
1/2 cup unsalted butter, softened
8 ounces cream cheese, softened
4 cups powdered sugar
1 teaspoon vanilla extract
Instructions
1. Preheat your oven to 350°F (175°C). Grease and flour two 9-inch round cake pans. In a large mixing bowl, whisk together the flour, sugar, baking powder, baking soda, salt, cinnamon, nutmeg, and ginger. Add the oil and eggs to the dry ingredients, and mix until well combined. Stir in the grated carrots, crushed pineapple, and vanilla extract until evenly incorporated into the batter. If you want, fold in the chopped nuts at this stage.
2. Divide the batter equally between the prepared cake pans. Bake in the preheated oven for 30 to 35 minutes, or until a toothpick inserted into the center of the cakes comes out neat. Bring it out from the oven to cool for about 10 minutes.
3. While the cakes are cooling, prepare the cream cheese frosting. In a large bowl, beat the softened butter and cream cheese together until smooth and creamy. Gradually add the powdered sugar and vanilla extract, and continue beating until the frosting is fluffy and well combined. Once the cakes are completely cool, spread a layer of cream cheese frosting on top of one cake layer. Place the second cake on top and frost the top and also sides of the cake with the remaining frosting.
4. Decorate as desired. You can garnish the cake with additional grated carrots or chopped nuts. Chill the cake in the refrigerator for at least an hour before serving to allow the flavors to meld together. Slice and enjoy your homemade carrot cake! This recipe makes a delicious and moist carrot cake with a rich cream cheese frosting. Enjoy!