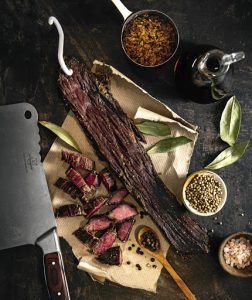 Biltong has made it to the Top most googled food in the world!!.
With nine provinces and 12 official languages, South Africa is home to a chakalaka of food options ranging from spicy to downright delectable. However, not everyone enjoys every sweet or savory treat they come across.
Curious about which dishes caused the most confusion, they looked at which were queried the most on Google.
Coming out tops was Egypt's falafel, no doubt spurred by the current trend of baked and colouring options. South Africa's biltong is our highest on the list at number six while sambals round up the top 10.
Top 10 foods by search volume
Falafel, Egypt — 7,528,502
Cous cous, Morocco — 5,956,403
Fufu, Ghana — 3,036,004
Cassava, Zambia — 2,191,705
Harissa, Tunisia — 2,072,706
Biltong, South Africa — 745,107
Lakh, Senegal — 685,508
Boo, Uganda — 671,009
Tô, Burkina Faso — 638,010
Sambals, South Africa — 61,700
Well if you are interested in trying out biltong, Here is a very tasty recipe to try out.
Sharon Lurie's homemade Biltong recipe
Makes: approximately 3kg
Ingredients:
6kg beef (top round, round bolo, shoulder bolo, eye of round)
250g coarse salt
125ml (½ cup) brown sugar
15ml (1 tbsp) bicarbonate of soda
7.5ml (1 ½ tsp) ground black pepper
125ml (½ cup) dried coriander seeds, coarsely ground
125ml (½ cup) brown vinegar, decanted into a spray bottle
250ml (1 cup) water
250ml (1 cup) red wine vinegar
Method:
Cutting along the natural dividing lines of the muscles and always with the grain, cut the meat into strips about 2.5cm thick and any desired length.
Mix together the salt, sugar, bicarbonate of soda, pepper and coriander. Thoroughly rub the mixture into the strips of meat.
Layer the meat, with the bulkier pieces at the bottom, in a glass or plastic container, spraying the brown vinegar over each layer as you add them.
Leave the meat in a cool place for 12 hours or longer (depending on how salty you prefer it), then remove from the marinade.
Mix the water and red wine vinegar and dip the strips of meat into it. This makes the biltong shiny and dark.
Once this is complete, the biltong is ready to dry. Hang the strips on S-shaped hooks, or use pieces of string, about 5cm apart, in a cool to warm, dry area with an oscillating fan blowing over them. It is very important the air is dry because too much moisture will cause the meat to spoil.
The biltong is ready when the outside is hard and the Centre is a little moist. Let the Centre dry according to personal taste.
Cut the biltong against the grain into thin pieces using a very sharp knife.