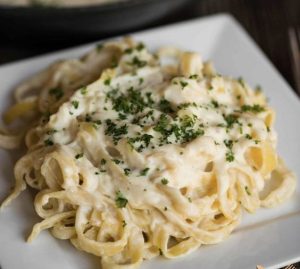 Creamy Alfredo pasta is a delightful dish that is loved by people around the world. Its velvety texture and rich flavor make it one of the most popular pasta dishes. The creamy Alfredo sauce is the main highlight of this pasta, made with butter, cream, garlic, and Parmesan cheese. Creamy Alfredo pasta is an exceptional and tasty dish that is perfect for any occasion. The luxurious and indulgent sauce makes it a standout dish that will leave your taste buds wanting more. Try it for yourself today and experience its rich and decadent flavors!
Creamy Alfredo Pasta Recipe
Ingredients
350g fettuccine pasta
1/2 cup unsalted butter
1 cup heavy cream
1 cup grated Parmesan cheese
2 cloves garlic, minced
Salt and black pepper to taste
Chopped fresh parsley for garnish
Instructions
1. Boil the Pasta: Cook the fettuccine pasta according to the package instructions in a large pot of salted boiling water until al dente. Drain and set aside.
2. Prepare the Sauce: In a large skillet, melt the butter over medium heat. Add the minced garlic and sauté until it becomes fragrant and lightly golden, but not browned.
3. Add Cream: Pour in the heavy cream, stirring continuously. Let it simmer gently for a few minutes until it thickens slightly.
4. Add Cheese: Gradually add the grated Parmesan cheese, stirring constantly to ensure it melts smoothly into the sauce. Continue stirring until the sauce becomes thick and creamy. Season with salt and black pepper to taste.
5. Combine Pasta and Sauce: Add the cooked fettuccine pasta to the creamy Alfredo sauce in the skillet. Toss the pasta gently in the sauce until it's well coated and heated through. If the sauce is too thick, you can add a splash of pasta cooking water to thin it out.
6. Serve and enjoy: Transfer the creamy Alfredo pasta to serving plates. Garnish with chopped fresh parsley and extra grated Parmesan cheese, if desired. Serve the creamy Alfredo pasta immediately while it's hot and creamy. Enjoy your delicious homemade meal!
Feel free to adjust the seasoning and thickness of the sauce according to your taste. Enjoy your meal!