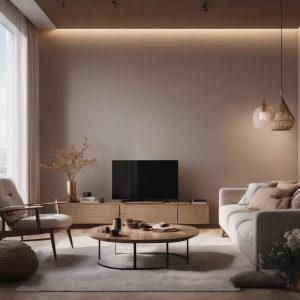 Minimalist spaces always gives a sense of comfort and solitude. It creates a relaxing atmosphere. Homes with little decor makes it easier to clean and tidy up to avoid clustering.
Benefits of minimalist home decoration
1. Well lit up homes
Minimalist homes requires an open floor plan which make homes to be more spacious and bigger. Open floor plans makes a home to be very much sustainable because it uses less energy due to its way of ligtening up rooms naturally through sun or even better, moon.
Due to its fewer walls and household items, minimalist homes appear bigger and removes room for feeling cramped in the house.
2. Reduced Clusters
Clustered spaces can make on feel cramped up and does not give out a homey feeling. Visual distractions can make one overwhelmed. Minimalist homes has fewer distractions which can improve creativity and productiveness. It encourages cluster free spaces , promotes relaxation and improves the atmosphere of the home which results to a more spacious, organized and calm environment.
3. Easy To Clean & Maintain
Homes with little decor makes it easier to clean and tidy up to avoid clustering. Minimalist designs promotes less clustering which leads to less dirt in your home which in turn means less time to spend while cleaning your home.
Less furniture and open floor house design makes cleaning much easier with things being out of the way.
4. Calm atmosphere
People that carry out the minimalist way of life definitely love it because of the calm aesthetics and atmosphere it gives out. A simple home with the perfect decor, color and setting tend to calm the mind and body.
One can definitely feel calm after a long day of activities in a minimalist home because of the essentials and relaxation it oozes.
5. Economical way of living
If your decor is minimal, it means that the amount of money you will spend on it will also be of a reasonable amount. Minimalism helps in cutting down purchases. Minimalist design is not just great for the owners but also help them achieve the kind of decor they want within their budget.
6. Easy moving of stuffs
When you have less household items, It makes it easier for you to move them out or around your home if needed. It also makes it easier for relocations.