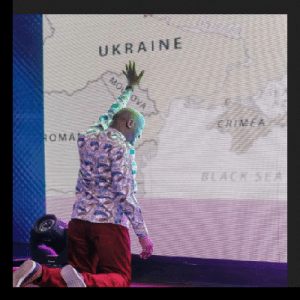 Pastor prays for peace in Ukraine.
A west African clergyman from Nigerian with the name Apostle Johnson Suleman has taken it upon him self to call on heaven in the situation ongoing between Ukraine and Russia.
What God can not do dose not exist. This is a time for Christians to pray for peace to reign again in Russia, Ukraine and the world in general.
Many might want to know about the origin of the conflict between Russia n' Ukraine, below is article from Sizwe Sukamusi that throw little light into what has happed and what is happening now Ukraine and Russia. This will enhance you to channel and pick your prayer point accurately.
Sizwe SukamusiSaid:
In 2010, Ukraine elected Viktor Yakunovych elected as president. The West (US & EU) were not happy with these events as they saw the new president as too aligned to Russia.
Before Yakunovych's election, Ukraine had a free trade deal in the pipeline with the EU. But in 2013, Yakunovych did a 180° and refused to sign the deal, favouring closer ties with Russia.
"In November 2013, led by Assistant Secretary of State for European and Eurasian Affairs, Victoria Nuland, the US fomented a Colour Revolution (called Euromaidan) which led to a coup in Ukraine. Yakunovych was overthrown.
Leaders in eastern Ukraine declared allegiance to Yakunovych. This led to anti-government protests in February in 2014 and a referendum in Crimea where 97% of respondents voted to Return Crimea to Russia. Russia annexed Crimea from Ukraine in March 2014.
Meanwhile, the new post-coup Ukrainian government proposed a Bill to remove Russian as an official language. Russian speakers in East Ukraine were angered about this saying ethnic Russians were in imminent danger.
In early 2014, Russia started sending support to Russians in the eastern regions of Ukraine (Donetsk, Kharkiv, Zaporizhia, and Odessa) who now demanded independence from Ukraine.
"In April 2014, the mainly Russian-speaking regions of Donetsk and Luhansk broke away from Ukraine and proclaimed themselves as separate Republics.
Also in early 2014, Russia started performing military exercises on the eastern Ukrainian border just as NATO was doing the same in Lithuania, Latvia and Estonia, who share borders with Russia.
In September 2014, Ukraine and Russia signed ceasefire agreements in Minsk, Belarus, to end hostilities in east Ukraine.
"Despite the Minsk agreements, from 2014 to date, continuous battles have been waged between Ukrainian forces and Luhansk and Donetsk separatists over territory in the Donbas region in violation of the agreements.
Along with the armed conflict, the EU and US imposed International sanctions against Russia. The sanctions led to the collapse of the Russian currency and caused economic damage to EU countries. By 2016, Russia had lost an estimated $600 billion.
"In 2017, the UN published a report stating that the EU countries were losing about "3.2 billion dollars a month" due to the Russian sanctions.
In March 2021, President Putin ordered the Russian military to mobilise troops near its border with Ukraine and in Crimea. In November, Russia deployed vessels to the Black Sea to "observe" US warships. Putin said the US ships were "a serious challenge"
In November 2021, the Russian Ministry of Defence said "The real goal behind the US activities in the Black Sea region is exploring the theater of operations in case Kyiv attempts to settle the conflict in the southeast by force".
From mid-January, 2022, the US started announcing that Russia would invade Ukraine, stating that an attack could begin before the conclusion of the 2022 Winter Olympics in Beijing in February.
In January 2022, NATO began providing weapons including anti-armor missiles and other US-made weapons to Ukraine. On 22 January, the US delivered 90 000 kg of lethal weapons to Ukraine. The Netherlands and Spain also deployed forces to the region in support of NATO.
In February, the US sent soldiers to Germany and Poland to boost NATO's presence in Europe, along with F-15 fighter jets to Romania. Britain also deployed soldiers, warships and jets to eastern Europe.
"On 21 February, the leaders of the self-proclaimed Donetsk and Luhansk People's Republics, requested Putin to officially recognize the republics' independence. Putin agreed and signed Russia's recognition of the republics and ordered troops to be sent there.
On 22 February, Boris Johnson announced sanctions on Russian banks and individuals. Germany announced suspending the certification process of the Nord Stream 2 pipeline. EU foreign ministers blacklisted all Russians who voted in favor of the recognition of the breakaway regions.
On 24 February 2022, President Putin announced the beginning of a "special military operation" in the Donbass region. Thus is where we are now.