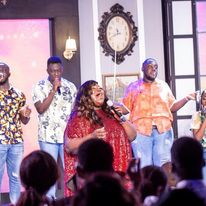 Team Eternity Ghana has done it again, but this time they've incorporated Vessel Chordrick's beautiful voice to create this unique hit titled "Prayer Answering God."
"Prayer Answering God" expresses God's power, fidelity, and love; and how He responds to prayers.
Team Eternity Ghana has a long history of writing strong worship songs with positive messages.
"Prayer Answering God" is the newest contribution to their amazing catalogue of music that has a strong impact on listeners. Don't be left out. Click on the link now to stream and download.
Lyrics to Prayer Answering God by Team Eternity Ghana and Vessel Chordrick
How; how You Love me
No One knows how Far it goes
You've said in Your Word
Ask and you'll Receive
All your Heart Desire;
You Supply all my Needs
[Verse 2]
How; how You Love me
No One knows how Far it goes
How; how You Love me
How You Love me, no One knows
You've said in Your Word
Ask and you'll Receive
All your Heart Desire;
You Supply all my Needs
You've said in Your Word
Ask and you'll Receive
All your Heart Desire;
You Supply all my Needs
[Chorus]
I go Carry my Burdens to You
Victory in Your Hands
I know you will never Let me down
I go Carry my Problems to You
Favor is in Your Hands
I know You won't send me Away
I go de Carry my Yoke to You
Freedom is in Your Hands
I know You will never Let me down
I Go de Carry my Praise to You
Victory is in Your Hands
I know You won't send me Away
[Repeat Verse 2]
How; how You Love me
No One knows how Far it goes
How; how You Love me
How You Love me, no One knows
You've said in Your Word
Ask and you'll Receive
All your Heart Desire;
You Supply all my Needs
You've said in Your Word
Ask and you'll Receive
All your Heart Desire;
You Supply all my Needs
[Chorus]
I go Carry my Burdens to You
Victory in Your Hands
I know you will never Let me down
I go Carry my Problems to You
Favor is in Your Hands
I know You won't send me Away
I go de Carry my Yoke to You
Freedom is in Your Hands
I know You will never Let me down
I Go de Carry my Praise to You
Victory is in Your Hands
I know You won't send me Away
[VAMP]
You are a Prayer Answering God
You have Heard me
You have Heard me
You are a Prayer Answering God
You have Heard me
You have Heard me
You are a Prayer Answering God
You have Heard me
You have Heard me
You are a Prayer Answering God
You have Heard me
You have Heard me
You are a Prayer Answering God
You have Heard me
You have Heard me
You are a Prayer Answering God
You have Heard me
You have Heard me
You are a Prayer Answering God
You have Heard me
You have Heard me
You are a Prayer Answering God
You have Heard me
You have Heard me
You have Heard me
You have Heard me
You have Heard me
You have Heard me
You have Heard me
You have Heard me
You have Heard me
You have Heard me
You have Heard me
You have Heard me
You have Heard me
You have Heard me
You have Heard me
You have Heard me
You have Heard me
You have Heard me
You have Heard me
You have Heard me
You have Heard me
You have Heard me
You have Heard me
You are a Prayer Answering God
You have Heard me
You have Heard me
He is a Prayer Answering God
He has Heard you
He has Heard you
He is a Prayer Answering God
He has Heard you
He has Heard you
He is a Prayer Answering God
He has Heard you
He has Heard you
He is a Prayer Answering God
He has Heard you
He has Heard you
You have Heard me
You have Heard me
You have Heard me
You have Heard me
You have Heard me
You have Heard me