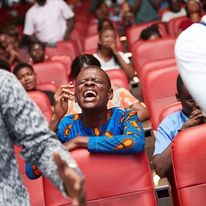 "Bended Knees" a powerful worship song that will bless your soul, is the latest release of Team Eternity Ghana. Team Eternity Ghana is a famous gospel group in Ghana which comprises of young men and women who burn for God and are deeply motivated to spread the gospel of God through their music ministration.
With a duration of 08:33, "Bended Knees" allows you to immerse yourself into a moment of worship as you join Team Eternity Ghana in seeking God's presence. The song combines traditional Ghanaian gospel sounds with modern music, which makes it accessible and enjoyable for all.
If you're looking for a song that will uplift your spirit and deepen your connection with God, "Bended Knees" by Team Eternity Ghana is a perfect choice. Let the heartfelt worship of this talented group bring you to your knees in awe and adoration.
Check this out: