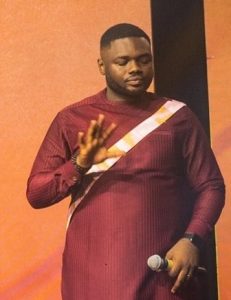 Kofi Owusu Peprah is a talented and vibrant gospel music artist from Ghana. His latest project, "Matwen Awurade Anim", features Rev George Owusu Mensah.
This song carries the power to invite the Holy Spirit's presence into the lives of its listeners. If you're looking for an uplifting and spirit-filled gospel song to add to your playlist, "Matwen Awurade Anim" by Kofi Owusu Peprah and Rev George Owusu Mensah is definitely one to check out!
Get ready to experience this powerful and inspiring new single, "Matwen Awurade Anim", as you download the MP3 of this amazing brand new single via the link below.
Lyrics to Matwen Awurade Anim by Kofi Owusu Peprah and Rev George Owusu Mensah
Awurade na ɔma
Nea w′abrɛ tumi
Na nea onni home no
Ɔma n'ahoɔden dɔɔso
Mmranteɛ mpo berɛ o
Na wɔmo pa aba daa
Nkwakwaa hwe hwe
Ase san wɔn akyi
Nanso wɔn a wɔtwɛn, Awurade anim
Onya ahoɔden foforo
Ɔde ntaban foro sɛ, anomaa ɔkɔdea a
Otu mmirika, na wɔmpa aba da
Ɔnante a ɔmerɛ
Awurade ama m′ayɛ, n'adebɔ mu ɔdehyeɛ
W'ahyɛ me tenenee katabo
Ɔde nepa ahyɛ m′afono mu ma
W′ama makoma ahyɛ ma oo
Hwɛ sɛ matanfo ani awu
Nti mmerɛ a metease yi
Wo nwunu ase (8xs) a na metena
Na m'ato me dɔfo ho dwom sɛ
Wo nwuma yɛ kɛse
Wo nwuma yɛ nwanwa
Onipa ba biara ntumi ntease
Metwere Zion botan
Nti medeɛ mennsuro dɔm
Efiri sɛ nea ɔte me mu no
Ɔso sene nea ɔwo wiase
Enti Awurade ka me ho yi
Medeɛ me nsuro anadwo bumbɔ
Ɛne bemma a etu awia ketee
Esane yadeɛ a ɛsɛe adeɛ
Efiri sɛ w′ama me kra adwane
Efiri ofidisumfoɔ afidie mu
Ɛne afidie no abubu
Afidie no adwiri
Na me deɛ m'ade meho
Nti berɛ a mete ase yi deɛ
Me dwane kɔbea ne wo Awurade
Mekogyefo ne Yehowa
A ɔntonko na ɔnna
Enti aseda bɛn, mpo na ɛbɛsɔ w′ani
Agya na medeɛ mento nnwom bɛn, na ɛbɛyɛ w'aso mu dɛ
Agya mede meho nyinaa, bɛbɔ afɔdeɛ ama wo a
Ɔkɛseɛ meyɛ wodea, na meyɛ w′adidibea dwan
Se meyi sika nso a, sika ne dwetɛ nyinaa firi wo hɔ a
Nti m'asɛm nyinaa nie
Agya, wodin na aseda nka
Agya, wodin na aseda nka
Ɔdomfo, wodin na ayeyie nka
Katakyie, wodin na nhyira nka
Dasabreɛ, wodin na ntontom nka
Dwantoa hene, wodin na aseda nka
Daseberɛ, wodin na anidie sɛ
Calvary nkunimdifoɔ, w'ayeyie rensa da
Enti medea mebɔ wo din daa
Mebɔ Awurade ne din
Mema ne so akyerɛ
Amansan nyinaa
Efiri sɛ ɔye Owura
N′akyi ne n′anim
Obi ntesɛ ɔno, ɔye tete Nyame
Agya m'akoma so asɛm paa
Na mede ayɛ nnwom a meretoɔ yi
Sɛ wɔn a wɔtwɛn wo no
W′anim rengu ase da
(Repeat Chorus 3x to end…)