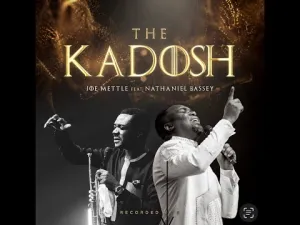 Joseph Oscar Nii Armah Mettle, also known as Joe Mettle, is a dedicated Ghanaian gospel singer and songwriter.
He created history on April 8, 2017, when he became the first Gospel artist to win the coveted Artist of the Year award at the 2017 Ghana Music Awards.
He has received numerous honours in Ghana and beyond, and has shared the stage with renowned gospel artists such as Donnie McClurkin, Nathaniel Bassey, Ntokozo Mbambo, Michael Stuckey, and many others.
Joe Mettle is out again with this awesome song which has become an anthem in the gospel music world, titled "The Kadosh" which features Nathaniel Bassey, a legendary Nigerian gospel artiste.
Take a beautiful listen below by clicking on the links below for free streaming and download.
Lyrics to The Kadosh by Joe Mettle and Nathaniel Bassey
Hey
Kadosh, Kadosh
The Holy Lord God Almighty
Hey
Kadosh, Kadosh
Kadosh, Kadosh, Kadosh
Kadosh, Kadosh
Kadosh, Kadosh, Kadosh
Is the Lamb of God who sits upon the Throne
Hey, He alone is worthy of our praise
Sing
Kadosh, Kadosh
Kadosh, Kadosh
(Kadosh, Kadosh, Kadosh) Kadosh, Kadosh
Kadosh, Kadosh
(Kadosh, Kadosh, Kadosh) is the Lamb of God
(Is the) who sits (Lamb of God who sits upon the Throne) whoa
Sing He alone is worthy (He alone is worthy of our praise)
Sing it again say, sing Kadosh, Kadosh
Kadosh, Kadosh
(Kadosh, Kadosh, Kadosh) Kadosh, Kadosh
Kadosh, Kadosh
(Kadosh, Kadosh, Kadosh) is the Lamb of God
(Is the) yeah, yeah, (Lamb of God who sits upon the Throne) He alone
Is worthy say (He) hey (alone) hey (is) hey (worthy of our praise)
Ah, ah-ah, ah-ah, ah, ah-ah-ah, say
(Ah, ah-ah, ah-ah, ah, ah, ah, ah, ah-ah, ah-ah) ah, ah-ah, ah-ah
(Ah, ah-ah, ah-ah, ah, ah, ah, ah, ah-ah) is the Lamb of God
(Is the) yeah, yeah, (Lamb of God who sits upon the Throne)
Holy are You, Lord, said He alone is
Worthy (He alone is worthy of) say it again (our praise)
Ah, ah-ah, ah-ah, say
(Ah, ah-ah, ah-ah, ah, ah, ah, ah, ah-ah, ah-ah) ah, ah-ah, ah-ah
(Ah, ah-ah, ah-ah, ah, ah, ah, ah, ah-ah) is the Lamb of God
(Is the) yeah, yeah, (Lamb of God who sits upon the Throne)
Said He alone, say (He alone is) c'mon, one more time (worthy of our praise)
Sing Kadosh, Kadosh
Kadosh, Kadosh
(Kadosh, Kadosh, Kadosh) Kadosh, Kadosh
Kadosh, Kadosh
(Kadosh, Kadosh, Kadosh) is the Lamb of God, yeah
(Is the Lamb of God who sits upon the Throne)
He alone is worthy (He alone is) c'mon, one more time
(Worthy) hey, hey (of) hey (our praise)
Ah, ah-ah, ah-ah, ah, ah-ah-ah, say
(Ah, ah-ah, ah-ah, ah, ah, ah, ah, ah-ah, ah-ah) ah, ah-ah, ah-ah
(Ah, ah-ah, ah-ah, ah, ah, ah, ah, ah-ah, ah-ah) eh-ah, eh-ah
eh, ah-eh, ah
(Eh, ah-eh, ah-eh, eh, eh, yah, eh, ah-eh, ah-ah) is the Lamb of God
(Is the) yeah, yeah, (Lamb of God who sits upon the Throne)
Said He alone is worthy (He alone is worthy) somebody come on, lift voice (of our praise)
And bless God with us, hey, hey, hey, hey, hey
(Hey) hey, hey, hey, hey, hey, hey, (hey, hey, hey, hey)
Come on, lift Your voice one more time
Hey, hey, hey, hey, hey, hey, hey, hey, hey
Eh, ah-eh, ah-eh, eh-eh-eh-eh, say
(Eh, ah-eh, ah-eh, eh, eh, yah, eh, ah-eh, ah-ah) eh, ah-eh, eh-eh-eh-eh
(Eh, ah-eh, ah-eh, eh, eh, yah, eh, ah-eh, ah-ah) is the Lamb of God
(Is the Lamb of God who sits upon the Throne)
He alone is worthy, say (He alone is worthy) come on, one more time (of our praise)
Eh, ah-eh, ah-eh, eh-eh-eh-eh, yeah!
(Eh, ah-eh, ah-eh, eh, eh, yah, eh, ah-eh, ah-eh) eh, ah-eh, ah
(Eh, ah-eh, ah-eh, eh, eh, yah, eh, ah-eh, ah-ah) is the Lamb of God
(Is the) yeah, yeah, (Lamb of God who sits upon the Throne)
(He alone is worthy of our praise)
Is the Lamb, who sits upon the Throne