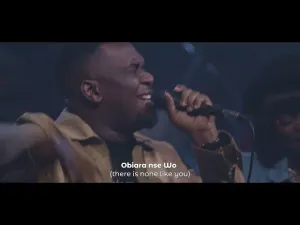 Check out the lyrics to "Great Jehovah" and the official music video for this amazing song by well-known and talented gospel musician Joe Mettle!
Gospel singer and songwriter Joseph Oscar Nii Armah Mettle, better known by his stage name Joe Mettle, is from Ghana.
He created history on April 8, 2017, when he became the first Gospel performer to take home the coveted Artist of the Year trophy at the 2017 Ghana Music Awards. He has played on worldwide stages with international gospel artists including Donnie McClurkin, Nathaniel Bassey, Ntokozo Mbambo, Michael Stuckey, and many others and has won numerous honours in Ghana and beyond.
You don't want to miss this. Download and stream this amazing song for free by clicking on the link below.
Lyrics to Great Jehovah by Joe Mettle
I have never seen a God like You
Who do the things that no one else can do
There's nothing in this world too hard for You
With You Lord, everything is possible (Repeat)
Pre-Refrain
Wonsa no dwuna nyinaa (The works of Your hands)
Ye nwanwa (Are wonderful)
Wo bode ne wo dwuma (Your creation and the things You've done)
Di adansi se (Testify that)
Refrain:
Obiara nse wo (There is none like You)
Obiara nse wo (There is none like You)
You deserve the praise
Great Jehovah
Obiara nse wo (There is none like You)
Obiara nse wo (There is none like You)
Only you deserve my praise (Repeat)
Baba, You have done so much for me
You took away my sin, my guilt, and shame
You've given me Your Love that knows no bounds
I will always give my praise to You (Repeat)
I will never let no rock, let no rock, take my praise
I will never let no rock, let no rock, 'cause only You deserve it
Only you deserve my praise (Repeat)