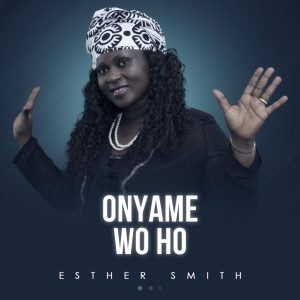 Esther Smith is a gifted Ghanaian Gospel singer, songwriter, and performer who currently resides in Germany. With a string of awards and multiple recognition to her name, Esther is a true legend in the Gospel music scene.
In her latest offering, "Ma Ensi Me Yie," a classic Ghanaian Gospel music from her Onyame Wo Ho Album, an 11-track studio project, she demonstrates her exceptional skills as a songwriter and performer.
The track is a powerful Ghana Gospel song that is a must-add to every Gospel music lover's playlist. With lyrics that touch the soul, an uplifting beat, and Esther's beautiful voice, "Ma Ensi Me Yie" is certain to leave a lasting impression on anyone who listens to it.
So, go ahead and stream the audio below to experience the full power of Esther's music. And don't forget to share the link with your friends and loved ones so that they too can experience the joy of her music.
Lyrics to Onyame Wo Ho by Esther Smith
Eyeee mama eyeee mama eyee eyee mama
Menua adɛn nti na wodi werɛhoɔ yi
Wo were afri sɛ Nyame wɔ hɔ
Ka wakoma to wo yam
Na wɔbɛadi ama wo mawakomaaa atɔ wo yam
Deɛn koraa ne wosuue
Deɛn koraa ne wamanehunu yi
Deɛn koraa ne wo haaaw yi
Deɛn koraa ne waboobo die yi
Bibi yɛ Nyame yɔna anaa
Menuaae mee bisa wo
Bibi yɛ papa no yɔna anaa
Ogyidi niee meebisa wo
Apueyɛ Onyame wɔ hɔ
Atɔyɛ Onyame wɔ hɔ
Atifi Onyame wɔ hɔ
Anaafoɔ Onyame wɔ hɔ
Wobenkum so Onyame wɔ hɔ
Yee wonifa so Onyame wɔ hɔ
Ooh sɛ wogyedieo Onyame wɔ hɔ
Eeee sɛ wonnye nieo Onyame wɔ hɔ
Menua mene wookyɛ asem kakra bi
Fa Abraham ne Sarah ho
Onyini yaa nanidasoɔ asa
Nso dakoropɛ bi
Na Onyame hyɛ neee ho animonyam
Tie menim sɛ wo haw ne wamaneɛ yi
Eye Nyame ani so ade ketewa bi
Menim sɛ wosuu a woosue
Enkyɛ koraa wobɛ sere
Deɛn koraa ne wosuue
Deɛn koraa ne wamanehunu yi
Deɛn koraa ne wo haaaw yi
Deɛn koraa ne waboobo die yi
Bibi yɛ Nyame yɔna anaa
Menuaae mee bisa wo
Bibi yɛ papa no yɔna anaa Ogyidi niee meebisa wo
Apueyɛ Onyame wɔ hɔ
Atɔyɛ Onyame wɔ hɔ
Atifi Onyame wɔ hɔ
Anaafoɔ Onyame wɔ hɔ
Wobenkum so Onyame wɔ hɔ
Wonifa so Onyame wɔ hɔ
Eee sɛ wogyedieo Onyame wɔ hɔ
Sɛ wonnye nieo Onyame wɔ hɔ
Kaa waakoma to wo yam Onyame wɔ hɔ
Kaa waakoma to wo yam Onyame wɔ hɔ
Kaa waakoma to wo yam Onyame wɔ hɔ
Kaa waakoma to wo yam Onyame wɔ hɔ
Eyeee mama Onyame wɔ hɔ
Eyeee mama Onyame wɔ hɔ
Eyee eyee mama Onyame wɔ hɔ
Apueyɛ Onyame wɔ hɔ
Atɔyɛ Onyame wɔ hɔ
Atifi Onyame wɔ hɔ
Anaafoɔ Onyame wɔ hɔ
Wobenkum so Onyame wɔ hɔ
Wonifa so Onyame wɔ hɔ
Eee sɛ wogyedieo Onyame wɔ hɔ
Sɛ wonnye nieo Onyame wɔ hɔ
Eyeee Onyame wɔ hɔ
Mama Onyame wɔ hɔ
Eyeee Onyame wɔ hɔ
Mama Onyame wɔ hɔ
Eyeee eyee Onyame wɔ hɔ
Mama Onyame wɔ hɔ
Onyame wɔ hɔ Onyame wɔ hɔ