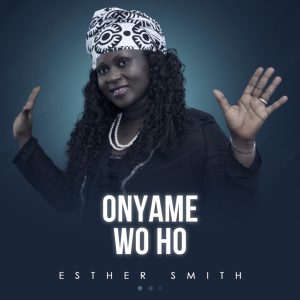 Esther Smith is a highly skilled Ghanaian Gospel singer, songwriter, and performer. Currently, she resides in Germany where she continues to bless audiences with her music. With a string of awards and multiple recognition to her name, Esther is a true legend in the Gospel music scene.
In her latest offering, "Ebi Nsi Da" a classic Ghanaian Gospel music from her Onyame Wo Ho Album, an 11-track studio project, she demonstrates her exceptional skills as a songwriter and performer.
The track is a powerful Ghana Gospel song that is a must-add to every Gospel music lover's playlist. With lyrics that touch the soul, an uplifting beat, and Esther's beautiful voice, "Ebi Nsi Da" is certain to leave a lasting impression on anyone who listens to it.
So, go ahead and stream the audio below to experience the full power of Esther's music. And don't forget to share the link with your friends and loved ones so that they too can experience the joy of her music.
Lyrics to Ebi Nsi Da by Esther Smith
Ebi nsi da
Ebi nsi da
Ebi nsi da
Ebi nsi da
Ɔmma no mma mu
Ebi nsi da
Ebi nsi da
Ebi nsi da
Ebi nsi da
Ɔmma no mma mu
Ɛmpare Nyame se
Obe yi me ama m′atanfo
Ɛmpare Nyame se
Obe yi me ama m'atanfo
Ɛmpare Nyame se
Obe yi me ama m′atanfo
Ɛmpare Nyame se
Obe yi me ama m'atanfo
Ebi nsi da oh
Ebi nsi da
Ebi nsi da
Ebi nsi da
Ɔmma no mma mu oh
Ebi nsi da
Ebi nsi da
Ebi nsi da
Ebi nsi da
Ɔmma no mma mu oh
Ebi nsi da
Ebi nsi da
Ebi nsi da
Ebi nsi da
Ɔmma no mma mu oh
Ebi nsi da
Ebi nsi da
Ebi nsi da
Ebi nsi da
Ɔmma no mma mu oh
Osɛefoɔ eh
Su su ma w'ani nnye me ho oh
Wo Awurade din mu
Me whe ase a, mɛsɔre
Me te sum mu a, ɔno ne me han
Ebi nsi da oh
Ebi nsi da
Ebi nsi da
Ɔmma no mma mu da oh
Menkwa nna nyinara
Mɛkoso m′asom wo daa
Nea ɛtoome nyinara ɛkyiri
W′atwitwa agye me w'ayi me ɛfiri mu
Onyame bɛn na ɔte sɛ wo
Nea wo dɔ wo mma sɛ eyi
Ebi nsi da
Ebi nsi da
(Ɔmma no mma mu oh) ebi nsi da
(Ebi nsi da) ebi nsi da
(Ebi nsi da) ebi nsi da
Ebi nsi da
Ebi nsi da
(Ɔmma no mma mu oh) ebi nsi da
(Ebi nsi da) ebi nsi da
(Ebi nsi da) ebi nsi da
Ebi nsi da
Ebi nsi da
(Ɔmma no mma mu oh) ebi nsi da
(Ebi nsi da) ebi nsi da
(Ebi nsi da) ebi nsi da
Ebi nsi da
Ebi nsi da
Ɔmma no mma mu oh
(Ebi nsi da) ebi nsi da
(Ebi nsi da) ebi nsi da
Ebi nsi da
Ebi nsi da
(Ɔmma no mma mu oh) ebi nsi da
Ebi nsi da
Ebi nsi da
Ebi nsi da
Ebi nsi da
Ɔmma no mma mu oh
Ebi nsi da
Ebi nsi da
Ebi nsi da
Ebi nsi da
Ɔmma no mma mu oh