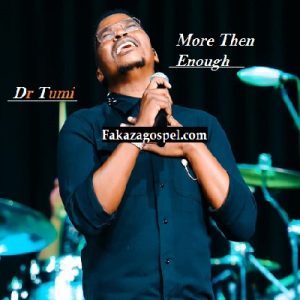 Dr Tumi is a very successful and spiritually focused gospel artiste. His commitment, has earned him several awards and acknowledgements. His first album "Heart of a King" was such a hit that in the 2012 SABC Crown Gospel Music Awards, he won the Best RnB Gospel award.
He personally wrote all the 15 songs in the album which contains "You are Here" as one of the most popular songs with 4.7million views as at 20th April 2019.
This time in 2023, Dr Tumi is back with a 10 tracks album titled "More Than Enough" this came after the release of his single Udumo 2020 and The Great Shepherd in 2021.
Track list
1. Dr Tumi – More Than Enough || Mp3 Download
2. Dr Tumi – Nothing Without You ||Mp3 Download
3. Dr Tumi – Call Away || Mp3 Download
4. Dr Tumi – You're Worthy || Mp3 Download
5. Dr Tumi – You've Been So Good || Mp3 Download
6. Dr Tumi – So Much More || Mp3 Download
7. Dr Tumi – I'll Wait || Mp3 Download
8. Dr Tumi – That Name || Mp3 Download
9. Dr Tumi – Strong God ||Mp3 Download
10. Dr Tumi – Chases After Me || Mp3 Download