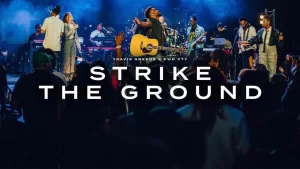 Travis Montorius Greene popularly known as "Travis Greene" is an American gospel musician who was born on January 17, 1984. Greene and his wife oversee the Forward City Church in Columbia, South Carolina.
Greene's debut album, The More, was released by Greenelight Records in 2007. Since then, he has released two new albums, Stretching Out in 2010 and The Hill in 2015, as well as an extended play titled Intentional in 2015.
Greene has received multiple nominations, including five Grammy nominations and 13 Stellar Award nominations. He has not stopped blessing the world as he releases this fresh hit track titled "Strike The Ground".
Click on the link below to stream and enjoy.
Lyrics to Strike The Ground by Travis Greene
You call me a conquerer
But I often wonder
When is heaven gonna take over
When's the lion gonna roar
I heard that there's greater
In store for me later
Fear is knocking, tryna take over
I'm still believing for more
But if he's in it
It's not finished
Victory is breaking out
There's no stopping now
If he said it
He will do it
Victory is breaking out
I will strike the ground
Oh oh oh oh
Oh oh oh oh
Oh oh oh oh
My eyes see a limit
He's viewing something different
There is nothing that's impossible
Every ceiling is a floor
He knows what he's doing
I'll stand still – he's moving
There has never been an obstacle
He can't turn into a door
If he's in it
It's not finished
Victory is breaking out
There's no stopping now
If he said it
He will do it
Victory is breaking out
I will strike the ground
It don't matter
Through every trial
God can handle it
I decided
Before the battle
My response is
Strike the ground
It don't matter
Through every trial
God can handle it
I decided
Before the battle
My response is
Strike the ground
It don't matter
Through every trial
God can handle it
I decided
Before the battle
My response is
Strike the ground
Oh oh oh oh
Oh oh oh oh
Oh oh oh oh
If he's in it
It's not finished
Victory is breaking out
There's no stopping now
If he said it
He will do it
Victory is breaking out
I will strike the ground
It don't matter
Through every trial
God can handle it
I decided
Before the battle
My response is
Strike the ground
Strike the ground
Strike the ground
Strike the ground
Strike the ground
Strike the ground
Strike the ground
Strike the ground
Strike the ground
Strike the ground
Strike the ground
Strike the ground
Strike the ground
Strike the ground
Strike the ground…
Could one time is not enough
Two times is not enough
Strike the ground
One time is not enough
Two times is not enough
Strike the ground
Strike the ground
It don't matter
Through every trial
God can handle it
I decided
Before the battle
My response is
Strike the ground