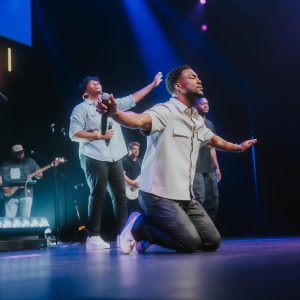 Todd Galberth, an American gospel singer and a passionate worship leader, has released a new song titled "Tired".
The long anticipated song by the famous anointed gospel artist, titled "Tired (Live In Richmond)" has been officially released on the 8th of September, 2023. Check out this great brand new tune, as well as the lyrics to the song.
Don't forget that listening to gospel music helps to strengthen and deepen your faith in God.
View Video, stream and download "Tired" using the link below:
Lyrics to Tired by Todd Galberth
You don't lie to me
Never go back on your word
Feels like I've heard it all
But you don't lie to me
You don't ever leave
You don't change your mind on me
Even when I fall
You don't ever leave
You don't get tired
You don't grow weary
It's not in your nature
You won't give up on me
You don't get tired
You don't grow weary
You see the worst of me
But you don't get tired
You don't get tired of me
You gave everything
Never withholding your love
On a cross with blood
You gave everything
You don't get tired
You don't grow weary
It's not in your nature
You won't give up on me
You don't get tired
You don't grow weary
You see the worst of me
But you don't get tired
You don't get tired of me
Every word you say is true
(You don't lie to me)
When everybody else walked out on me
(You won't ever leave)
Even when I had nothing
(You gave everything)
Now I'm a testimony
Your love endures forever
Your love endures forever
Your love endures forever
Your love endures forever
Your love endures forever
Your love endures forever
Your love endures forever…
Cause you don't lie to me
You don't go back on your word
You don't lie to me
You don't go back on your word
You don't lie to me
But you don't go back on your word
You don't lie to me
You don't go back, you don't go back on your word
You don't get tired
You don't grow weary
It's not in your nature
You won't give up on me
You don't get tired
You don't grow weary
You see the worst of me
You see the worst of me
You see the worst of me
You see the worst of me
You see the worst of me
You don't get tired
You don't get tired of me
You see the worst of me
You don't get tired
You don't get tired of me