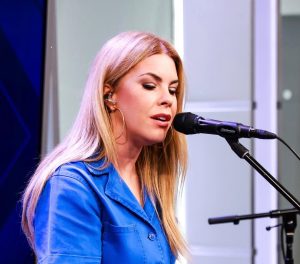 American gospel music singer, songwriter, and author Tasha Layton has unleashed a new song.
With her first radio track, "Love Lifting Me," Layton achieved her first radio success in 2019. Her second radio hit, "Into the Sea (It's Gonna Be OK)," which was released in 2020, has been considered her breakthrough song and catapulted her into the Billboard Top 5 Female Christian Artists in that year.
Layton has two children with her husband, Keith Everette Smith who is a musician and producer.
She is out here again with this beautiful piece titled "Lay It Down". Hurry now to stream this beautiful tune using the link below:
Lyrics to Lay It Down by Tasha Layton
The weight of the world
It feels like mountains
But You move mountains
Yes You do
To those who are thirsty
You're a fountain
And living water
It flows from You
I got your invitation
That You could set me free
I can't believe You'd do that for me
You say your yoke is easy
You say your burden's light
You take a soul that's weary
Give comfort every time
And when my heart is heavy
I know without a doubt
There's nothing You won't carry
So oh Lord
I lay it down
I lay, I lay it down
I lay, I lay it down
Oh Lord
I lay it down
The Devil he knows
He can't touch me
Cause Lord You bought me
With your blood
The guilt and shame
They roll right off me
Til all I carry
Is your love
You say your yoke is easy
You say your burden's light
You take a soul that's weary
Give comfort every time
And when my heart is heavy
I know without a doubt
There's nothing You won't carry
So oh Lord
I lay it down
I lay, I lay it down
I lay, I lay it down
Oh Lord
I lay down