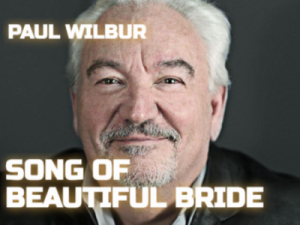 Take a thrilling listen to this amazing song titled "Song of the Beautiful Bride", dished out by popularly American christian guitarist, worship leader, and musician Paul Robert Wilbur.
Throughout his career, Wilbur has put out albums with Integrity Music, Hosanna! Music, Epic Records, and Venture3Media.
'Up to Zion', a live album that served as his debut composition, was made public in November 1991.
He is married to Luanne Wilbur and they have two sons.
Listen to "Song of the Beautiful Bride" by clicking on the link below.
Lyrics to Song of the Beautiful Bride by Paul Wilbur
There is a noise
There is a sound
There is a cry from the depths of our hearts
Heaven come down
Will not be silenced
Can't be contained
The cry of a people, a priesthood, a nation
Called by Your name
Out of the darkness
Redeemed from the night
Bathed in His glory, reflecting His light
Oh, what a beautiful bride
From every nation
From every tribe
Clothed with His righetousness, fully alive
Hear the song of the beautiful bride
Oh, what a mystery
How great the love
Calls to the broken, the orphan, the chosen
Making us one
And under His hand
United we stand
Bearing the goodness, the beautiful mercy
Of our great I AM
Out of the darkness, redeemed from the night
Bathed in His glory, reflecting His light
Oh, what a beautiful bride
From every nation, from every tribe
Clothed with His righteousnes, fully alive
Hear the song of the beautiful bride
Singing how great and marvelous
are all Your deeds
Nations will come and bow down at Your feet
Glory to you, Lord of all, King of all Kings
We sing how great and marvelous
Are all your deeds
Let the nations all come down and bow down at Your feet
Glory to You Lord of all, King of all Kings
Out of the darkness, redeemed from the night
Bathed in Your glory
Reflecting Your light
Oh, what a beautiful bride
From every nation, from every tribe
Clothed with His righteousness, fully alive
Hear the song of the beautiful bride
Hear the song of the bride
Hear the song of the bride
Dance with me
Hear the song of the bride
Lover of my soul
Glory to the Lord of all
Lover of my soul
Hear the song of your bride
Lover of my soul