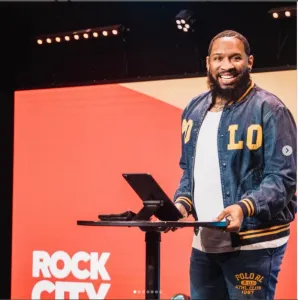 Listen to Pastor Mike Jr. "I Got It". The duration of song is 04:19. Pastor Mike Jr whose full name is Michael McClure, Jr. is a gospel artist, a pastor and speaker. He is associated with Rock City Church, a multisite church with locations in Ohio, Kentucky, and Indiana.
The eminent gospel music rapper, pastor, singer, and songwriter whose songs have always ministered to lives, is known for his passionate preaching style, relatable messages, and engagement with life issues.
Click on the link below to take a good listen.
Lyrics to I Got It by Pastor Mike, Jr.
[Intro]
Ayy I'm J!
I got it, I got it
We got it, we got it
Yeah, yeah
[Verse]
Jehovah Jireh
You been my provider
And You're my rider
You've been with me through the fire
No worries 'cause You got me
Given' up, not likely
No, the Devil can't stop me
'Cause I'm walking' in my victory
Stay winning' long as You're with me
[Pre-Chorus]
Yeah, say this
You made a way (You made a way)
Out of no way (Out of no way)
You keep on blessing me (You keep on blessing me)
Every day (Every day)
Fight all my battles (Fight all my battles)
You save the day (You save the day)
That's why we give You all the glory
Yeah
Let's go
You might also like
TV Girl – Blue hair (Traduction Française)
Genius Traductions françaises
Forgot About Dre
Dr. Dre
Like Crazy (English Version)
Jimin (지민)
[Chorus]
Can't nobody do me like You, Jesus (Can't nobody do me like You, Jesus)
Can't nobody do me like You, Lord (Can't nobody do me like You, Jesus)
I give You glory, I give You glory, yeah
I give You glory, I give You glory, yeah (I give You glory, I give You glory, yeah)
I give You glory, I give You glory (I give You glory, I give You glory, yeah)
I give You glory, I give You glory (I give You glory, I give You glory, yeah)
It's already mine (It's already mine)
[Bridge]
Never alone, I can go to the throne
He's right beside me
Hold my hand in the valley
Lost, but now you found me
Don't know where I would be
Don't know who I would be, yeah, yeah
Came through when I need Him
He's a rider
All my haters, you know He be fightin', yeah
I never had no one to stick beside me, yeah
And when it's cold, I know He got that fire
[Pre-Chorus]
You made a way (You made a way)
Out of no way (Out of no way)
You keep on blessing me (You keep on blessing me)
Every day (Every day)
Fight all my battles (Fight all my battles)
You save the day (You save the day)
That's why we give You all the glory
Yeah
Let's go
[Chorus]
Can't nobody do me like You, Jesus (Can't nobody do me like You, Jesus)
Can't nobody do me like You, Lord (Can't nobody do me like You, Jesus)
I give You glory, I give You glory, yeah
I give You glory, I give You glory, yeah (I give You glory, I give You glory, yeah)
I give You glory, I give You glory (I give You glory, I give You glory, yeah)
I give You glory, I give You glory (I give You glory, I give You glory, yeah)
It's already mine (It's already mine)
[Post-Chorus]
I got it, I got it
You got it, you got it
We got it, we got it
It's already mine (Already mine)
I got it, I got it
You got it, you got it
We got it, we got it
It's already mine (Already mine)
[Outro]
Can't nobody do me like You, Jesus (Can't nobody do me like You, Jesus)
Can't nobody do me like You, the Lord (Can't nobody do me like You, Jesus)
I give You glory, I give You glory, yeah
I give You glory, I give You glory, yeah (I give You glory, I give You glory, yeah)
I give You glory, I give You glory (I give You glory, I give You glory, yeah)
I give You glory, I give You glory (I give You glory, I give You glory, yeah)
It's already mine (It's already mine)
It's coming
It's already mine (It's already mine)