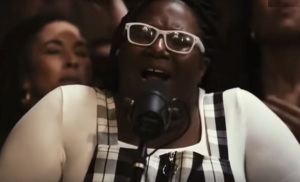 Talented gospel singer, songwriter, and worship leader Naomi Raine is renowned for her entrancing voice and passionate praise music. She is an Illinois native who has had a big impact on the contemporary Christian music landscape.
From a young age, Naomi Raine has been active in worship and music. Through her participation in church choirs and worship teams, she honed her musical talents and enthusiasm for worship. Her commanding voice and capacity to captivate audiences with her sincere delivery rapidly attracted attention.
She rose to prominence as a part of the renowned group Maverick City Music, a collective of artists and songwriters who have been instrumental in shaping the contemporary worship landscape. Her contributions to their live albums and performances have gained her widespread recognition and praise.
Known for her soul-stirring performances, Naomi Raine infuses her songs with an authentic and transparent approach to worship. Her lyrics often convey themes of surrender, intimacy with God, and the transformative power of His love. With a unique vocal style that effortlessly blends elements of gospel, soul, and contemporary Christian music, she has become a sought-after artist in the worship genre.
Naomi Raine's music has resonated with listeners around the world, and her songs have become anthems of worship in churches and gatherings. Through her heartfelt worship, she seeks to lead others into a deeper encounter with God and create an atmosphere of reverence and awe.
As a worship leader and artist, Naomi Raine continues to inspire and impact people with her powerful voice, sincere worship, and dedication to spreading the message of God's love.
This time is back with a new single called "Naomi Raine" Take a listen to the track ans watch the video below.
Lyrics to I still bless you by Naomi Raine.
I put my faith in Jesus
My anchor to the ground
My hope and firm foundation
He'll never let me down
I put my faith in Jesus
My anchor to the ground (my hope and firm foundation)
'Cause my hope and firm foundation (He'll never let me down)
He'll never let me down (oh, I put)
I put my trust (faith) in Jesus (yes, I do)
My anchor to the ground
My hope and firm foundation (my hope and firm foundation)
He'll never let me down (He'll never let me down)
Never let me down
I put my faith in Jesus (I put my faith in Jesus)
My anchor to the ground (my anchor to the ground), oh
He's my hope, my only hope, my only hope (my hope and firm foundation)
He'll never let me down (He'll never let me down)
He'll never let me down
Great is Your faithfulness to me (faithfulness, oh, great)
Great is Your faithfulness to me (from the rising sun)
From the rising sun to the setting same
I will praise Your name
In every season, great is Your faithfulness to me
Say, I put my faith
I put my faith in Jesus
My anchor to the ground (He's my hope)
My hope and firm foundation (and He'll never let me down)
He'll never let me down (I put my faith)
I put my faith in Jesus (my anchor)
My anchor to the ground (He's my hope)
My hope and firm foundation (never let me down)
He'll never let me down (come on sing it loud)
Say, I put my faith
I put my faith in Jesus (my anchor to the ground)
My anchor to the ground (my hope and)
My hope and firm foundation (never let me down, He'll never)
He'll never let me down (never let me)
I put my faith in Jesus (I put my faith in Jesus)
My anchor to the ground (my anchor to the ground)
He's my hope and firm foundation
My hope and firm foundation
He'll never let me down (He'll never let me down)
No, He'll never let me down (He'll never let me down)
Great is, great
Great is Your faithfulness to me
In every season, great is Your faithfulness to me (great is Your faithfulness)
From the rising sun
From the rising sun to the setting same (hey)
I will praise Your name
From the rising sun
From the rising sun to the setting same (hey)
I will praise Your name
From the rising sun
From the rising sun to the setting same (let it go up and let it go down)
I will praise Your name (I'll still bless You, I'll still praise You)
From the rising sun to the setting same (let it go up and let it go down)
I will praise Your name (and I'll still bless You, I'll still praise You)
From the rising sun to the setting same (let it go up and let it go down)
I will praise Your name (and I'll still bless You, I'll still bless You)
From the rising sun to the setting same (and I'll still bless You, I'll still bless You)
I will praise Your name (I'll still bless You)
Great is
Great is Your faithfulness to me (I'll still bless You)
Great is Your faithfulness to me (I'll still bless You)
From the rising sun (I'll still bless you)
From the rising sun to the setting same (I'll still bless You)
I will praise Your name (I'll still bless You)
Great is Your faithfulness to me (I'll still bless You)
Yes, I'll still bless You
In the middle of the storm, in the middle of my trial
I'll still bless You
In the middle of the road, when I don't know where to go
I'll still bless You (yeah)
In the middle of my storm, in the middle of my trial
I'll still bless You (yeah)
When I'm in the middle of the road and I don't know which way to go
I'll still (I'll still bless You)
I'll still bless You
I'll still bless You, oh (I'll still bless You)
I've got a reason to bless You, yeah
I've got a reason to bless You (I'll still bless You)
I've got a reason to bless Your name
You've been faithful, You've been faithful (I'll still bless You)
You've been so good to me, You've been so good
Come on just lift up your praise
Just lift up your worship to him
You've been so good, you've been so good
Let this, oh, this body be filled with Your praise
Be filled with Your praise (we bless Your name, we bless Your name)
We bless Your name, oh-oh-oh
I'll still bless You, oh-oh-oh
I'll still bless You, oh-oh-oh
I'll still bless You, oh-oh-oh
I'll still bless You
Great is Your faithfulness
Great is Your faithfulness to me (great is)
Great is Your faithfulness to me (from the rising sun)
From the rising sun to the setting same
I will praise Your name (from the rising sun)
From the rising sun to the setting same
I will praise Your name (from the rising sun)
From the rising sun to the setting same
I will praise Your name (great is)
Great is Your faithfulness to me