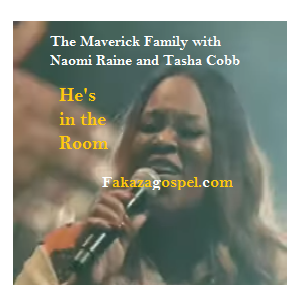 Maverick City Music – He's in the Room ft. Tasha Cobbs Leonard and Naomi Raine
The Maverick Family with Naomi Raine and Tasha Cobbs came through with this new track titled "he's in the room". The lyrics goes like that: Just go ask Daniel if Our God will bring you out And he will testify He shuts the Lion's mouth Go ask those Hebrew boys If He'll stick by your side They will identify The fourth man in the fire They'll tell you.
Take a listen below.
Lyric to He's in the Room by Maverick & Naomi Raine ft.
Tasha Cobbs Leonard
"In The Room"
(feat. Tasha Cobbs Leonard)
I'm not forsaken
Never alone
The God of Heaven
Calls me His own
He's not just seated upon the throne
I know He's right here inside my home
I've got a treasure
Here in my heart
And in my weakness
It won't depart
I have a Savior who will abide
He's not just with me, He lives inside
Just go ask Daniel if
Our God will bring you out
And he will testify
He shuts the Lion's mouth
Go ask those Hebrew boys
If He'll stick by your side
They will identify
The fourth man in the fire
They'll tell you
Oh
He's in the room
Oh
He's in the room
I've got a treasure
Here in my heart
And in my weakness
It won't depart
I have a Savior who will abide
He's not just with me He lives inside
So, go ask Daniel if
Our God will bring you out
And he will testify
He shuts the Lion's mouth'
Go ask those Hebrew boys
If He'll stick by your side
They will identify
The fourth man in the fire
They'll tell you
Oh
He's in the room
They'll tell you
Oh
He's in the room
Oh, yes, He is
Yes, He is
Oh
They'll tell you
He's in the room
Yes, He is
Oh
He's in the room
Oh
If I search the heavens high
He's there
If I search the earth below
He's there
If I make my bed in hell
He's there
No matter where I go
He's there
Where can I run from His Spirit?
He's there
Where can I go from His presence?
He's there
Even in the deepest depths
He's there
No matter where I go
He's there
If I search the heavens high
He's there
If I search the earth below
He's there
If I make my bed in hell
He's there
No matter where I go
He's there
Where can I run from His Spirit?
He's there
Where can I go from His presence?
He's there
No matter where I go
He's there
No matter where I go
He's there
If I search the heavens high
He's there
If I search the earth below
He's there
If I make my bed in hell
He's there
No matter where I go
He's there
Where can I go from His Spirit?
He's there
Where can I go from His presence?
He's there
Even in the deepest depths
He's there
No matter where I go
He's there
Oh
He's in the room
Oh, yes, He's there
Yes, He's there
The presence of the Lord is here
Oh
He's in the room
Oh
Oh
He's in the room
Come on. Let's do it again
If I search the heavens high
He's there
If I search the earth below
He's there
If I make my bed in hell
He's there
No matter where I go
He's there
No matter where I go
He's there
No matter where I go
He's there
No matter where I go
He's there
No matter where I go
He's there
No matter where I go
He's there
Everywhere I look
He's there
Everywhere I go You're there
He's there
Everywhere I look You're there
He's there
If I make my bed in hell
He's there
If I go to the atmosphere
He's there
No matter where I go
He's there
No matter where I go
He's there
Oh
He's in the room
Oh, I'll tell you
Oh
He's in the room
He's in the room
He's in the room
He's in the room
He's in the room
He's in the room
He's in the room
He's in the room
He's in the room
He's in the room
He's in the room
Jesus is in the room
He's in the room
He's in the room
He's in the room
He's in the room
He's in the room
Just as [?]
When He walked in the room
When Jesus is in the room
You gotta get up, get up, get up
When Jesus is in the room
You gotta get up, get up, get up
When Jesus is in the room
You gotta get up, get up, get up
When Jesus is in the room
You gotta get up, get up, get up
Get up, get up, get up
Get up, get up, get up
Get up, get up, get up
Get up, get up, get up
Get up, get up, get up
Get up, get up, get up
Get up, get up, get up
Get up, get up, get up
He's in the room
He's in the room
He's in the room
He's in the room
He's in the room
He's in the room
He's in the room
He's in the room
He's in the room
He's in the room
He's in the room
He's in the room
He's in the room
He's in the room
He's in the room
You gotta know it
Know it for yourself
He's in the room
When everybody else walks away
He's gonna stay right there
He's in the room
He's in the room
[?]
Oh
He's in the room
Sing it one more time sing
Oh
He's in the room
Sing it one more time sing
Oh
He's in the room