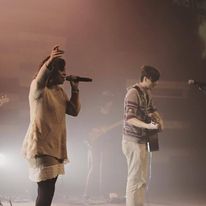 Koryn Mattanah Hawthorne is an American contemporary Christian music and gospel singer. Hawthorne was a finalist in season 8 of NBC's singing competition The Voice, at the age of 17, as a member on Pharrell Williams's team.
After placing fourth on the show, Hawthorne got signed to RCA Inspiration, a division of Sony Music dedicated to gospel music recordings. Her debut studio album, Unstoppable, was released on July 13, 2018, and earned her multiple awards nominations, including two Grammy nominations.
She is here again with this tune titled "Speak To Me".
Click on the link below to enjoy:
Lyrics to Speak To Me by Koryn Hawthorne
Nothing feels better than to know you
And nothing's more important than to show you
That nothing comes close to what the vibe is
Nothing's more exciting than the time spent with you
No one but you
Can love me true
How you love me when you love me and you tell me everything is gonna be alright
You mean the world to me
You are my everything
And I never, no never, never ever wanna know what it's like without you
I wanna wake up to you everyday
I think I'll feel like this forever – as long as we're together
Wanna know you each and every way
I promise to be honest when I speak to you
Wanna put you at the top of my list
Wanna walk it like I talk it wanna give you everything
Please, tell me that you rockin' with this
You know all the ways to speak to me
I like it when it's just us talking and you don't hold it against me
That you don't really need me for nothing
But I need you for everything
And when I'm honest with you, telling you my issues
You keep it official every time I kick it with you it's no games, no games, oh
Don't change, don't change 'cause
You mean the world to me
You are my everything
And I never, no never, never ever I I wanna know what it's like without you
I wanna wake up to you everyday
I think I'll feel like this forever – as long as we're together
Wanna know you each and every way
I promise to be honest when I speak to you
Wanna put you at the top of my list
Wanna walk it like I talk it wanna give you everything
Please, tell me that you rockin' with this
You know all the ways to speak to me
I wanna wake up to you everyday
I think I'll feel like this forever – as long as we're together
Wanna know you each and every way
I promise to be honest when I speak to you
Wanna put you at the top of my list
Wanna walk it like I talk it wanna give you everything
Please, tell me that you rockin' with this
You know all the ways to speak to me