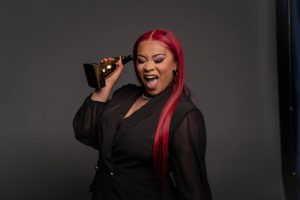 Koryn Mattanah Hawthorne is a gospel music vocalist from the United States.
Hawthorne was a finalist in season 8 of NBC's singing competition The Voice. After finishing fourth on the show, Hawthorne was signed by RCA Inspiration, a Sony Music division dedicated to gospel music recordings.
Koryn's debut studio album Unstoppable, was released on July 13, 2018, and won her multiple award honours, including two Grammy nominations.
She has seen great success in the music industry and is still going strong as she releases the number-one single "Bless Up."
Don't miss this update, hurry up, listen, stream and download this nice hit by clicking on the links below:
Lyrics to Bless Up by Koryn Hawthorne
Tell me where do I begin
You are like my favorite friend
I'm singing ever since the first day
I never wanted this to end
This was love at first site
Yeah love at first site
When everything was going wrong
You made it all right
You told me I'm better
Better than I knew
Now you help me do all things
All things and you
Tell me where do I begin
You are like my favorite friend
Love so incredible, never want it to end
Oh how I love ya
Let's stay together
I wanna bless up
I'm talking bout bless up
I wanna know you
Know you better
Come on and bless up
I'm talking bout bless up
Wanna tell everybody
Gotta tell everybody
That you are the greatest
And you can't be replaced
Oh how I love ya
Let's stay together
I wanna bless up
Come on let's bless up
The question is will I leave ya
The answer is oh no
Just ask my friends, they know
When it comes to you, I'm sold
Where you lead be I'ma follow
Where you lead be I'ma follow
Not talking bout pix on the 'Gram
But where you leave me I'ma follow
Anywhere you go, I don't really care
'Cause anywhere you're not I don't wanna be there
The question is will I leave you, the answer is oh no
I feel this love in my soul and I just wanna let the world know, let the world know
That I love ya
Let's stay together
I wanna bless up
I'm talking bout bless up
I wanna know you
Know you better
Come on and bless up
I'm talking bout bless up
Wanna tell everybody
Gotta tell everybody
That you are the greatest
And you can't be replaced
Oh how I love ya
Let's stay together
I wanna bless up
Come on let's bless up
Bless up
I can't hide, I can't hide that I like you
No one like, no one like, no one like you
And you make me come alive
And I feel like I can fly
Bought me so far that's a fact and I'm never going back
I love ya
Let's stay together
I wanna bless up
I'm talking bout bless up
I wanna know you
Know you better
Come on and bless up
I'm talking bout bless up
Wanna tell everybody
Gotta tell everybody
That you are the greatest
And you can't be replaced
Oh how I love ya
Let's stay together
I wanna bless up
Come on let's bless up
Bless up