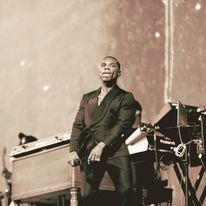 Check out this enthralling song titled 'Unconditional' by Kirk Franklin. This wonderful song really deserves a place on your playlist. Kirk Franklin is an American gospel music artiste who is known for his unique sound and amazing dedication to presenting awesome songs over the years.
"Unconditional" is among his collection of songs which have gotten his fans so impressed and always anticipate new songs from his table. Here, he features Le'Andria Johnson, another American gospel artiste.
The official video and lyrics of this song are available to assist you sing alongside. This inspiring track promises to uplift you and transmit you to a glorious atmosphere full of bliss. So, don't hesitate to give it a listen today!
Use the link below to watch the video of 'Unconditional'.
Lyrics to Unconditional by Kirk Franklin & Le'Andria Johnson
Yeah, don't worry
You are not alone
There's someone else
That sits high on the throne
He intercedes for my sin-sick soul
My days and my nights
He has in control
He loves me
This I know
This I know
He loves me (Ooh, ooh)
Each breath I take, it shows
Each day that I'm breathing, you see that it shows
He loves me with an unconditional love, ooh
Don't worry (No, no)
The betrayal and the lies (Betray, the lies)
Is the cross that you bear (Oh, I remember)
So the old you can die
Crucify, crucify, crucify
There's no condemnation (Oh, no condemnation)
For children of the King
You know who you are
Though I fall a thousand times
A thousand nails have set me free
They have set me free
He loves me
Yes He do, Yes He do
This I know
He loves me
He loves me
Each breath I take, it shows (Ooh)
He loves me, yeah (Oh)
With an unconditional love
Ooh, unconditional love
Hmm, yeah
See, I'm singing love
Love not made of flesh, one that's born not of pain (Love)
One that sees who I am, that won't stop 'til I'm changed (Love)
Not conditional love, but long suffering (Ooh, love)
From healed to the grave, love got up just for me
Talking 'bout that love
When nothing else could help, love lifted me (Love)
A life full of mistakes is all anyone can see (ooh, love)
Thank You for Your love, yeah
He loves me
Don't you look no more
Oh, this I know
I'm glad Jesus loves me
I'm glad every breath I take, it shows (It shows)
He loves me, yeah
Oh, with unconditional
Don't worry
You are not alone