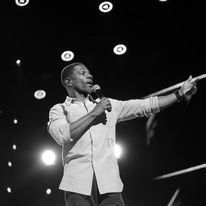 American songwriter, choir director, gospel singer, and rapper Kirk Dewayne Franklin, popularly known as "Kirk Franklin" was born on January 26, 1970.
He is well recognised for being the band leader of groups like The Family, God's Property, and One Nation Crew (1NC), among many others that perform urban gospel and christian R&B music. He has received many honours, including 19 Grammy Awards.
Franklin, one of the first entrants into the Black Music & Entertainment Walk of Fame, has been labelled a "Reigning King of Urban Gospel" by Variety.
Take a good listen to this his new song, titled "Needs":
Lyrics to Needs by Kirk Franklin
There's so many voices out there right now
Telling you what they feel you need
I found the answer's really simple
And it's been there the entire time
I need peace
I need grace
I need strength for one more day
I need patience for this race
I need Jesus
I need truth that will not change
I need grace when I'm the one to blame
In a crowded room
Someone who knows my name
I need Jesus
I don't need another love song
For the radio to play
I'm at the end of myself
When I talk to myself
I have nothing left to hear me say
I don't need another plan
'Cause when they fail
I have to plan again
I need the one that takes me as I am
I need Jesus
I don't need another love song
For the radio to play
I'm at the end of myself
When I talk to myself
I have nothing left to hear me say
I need love that will not lie
A love that chases and says you're mine
A love that promised for you I'll die
I need Jesus (I need Jesus)
Help me say oh
How beautiful to know
I trust you won't let go
You live to catch each dream that falls
Say oh
How could my heart say no
When You live to make me Your own
So I answer when You call
Keep your trends, they will change
Material things, they quickly fade
Keep your empty prayers, I'm ok
I've got Jesus (Woah)
I've got Jesus (Yes)
I've got Jesus (Jesus)
Give me Jesus