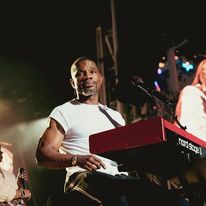 Check out this thrilling song titled 'Listen' by Kirk Franklin. This amazing song deserves a place on your playlist. Kirk Franklin is an American gospel music who has been committed to offering beautiful songs over the years. He has an amazing fan base of over 4.5million followers on Facebook.
"Listen" is just one of his numerous songs which has gotten his fans so impressed and always anticipate his new projects.
The lyrics of this song is available to assist you sing alongside. The official video of this song is also available. This inspiring track promises to uplift you and transmit you to a glorious atmosphere full of bliss. So, don't hesitate to give it a listen today!
Use the link below to watch the video of 'Listen'.
Lyrics to Listen by Kirk Franklin
Light of the world, please don't give up on me, I'm so lost right now
Reach through the dark
I feel like I've been missing
God of the stars, can You silence the storm deep in me right now?
Relight my fire
That warm embrace has ended
You, I can't keep up with You
Help me know what's true
Lies have become believable
I don't know what else I can say
So maybe it's better this way
If I just listen
Oh, son of man from the clouds, if I speak, can you hear right now?
I knew your name before sin left you broken
I hold the keys, so tell me why's your heart full of fear right now?
I knew you would fall
So grace keeps my arms wide open for
You, I can't give up on you
Your tendencies I knew
Which makes each nail more beautiful
Don't get in your own way
There's life in each word that I say
If you just listen
Why is it so hard to believe?
But there is one sure guarantee, if you just
Listen, you speak but don't listen
That's why you keep missing
The beautiful things heaven has for you
Just know then
When you have come to your end
That's when new life begins
Yes it feels like it's forever, but it's sweeter on the other side of you
La, la-la-la la-la-la
La-la-la la-la-la, la-la
La, la-la-la
La-la-la, la-la, la-la-la
Don't get in your own way
There's life in each word that I say, if we just
As time pierces through my procrastination
How much further I'd be if I just considered my past affliction
Only to confess I am my own prisoner
Found guilty of the crime that I constantly did not listen
Tomorrow's more clearer if we would just listen
His touch feels more nearer if we could listen
And now I know
I wouldn't fail as much if I would just listen
Patterns of circles and circles for my life are over if I listen
Tomorrow's more clearer if we would just listen
The truth is
His touch feels more nearer if we could just listen
Please
And now I know
I wouldn't fail as much if I would just listen
Please
Patterns of circles and circles for my life are over if I listen