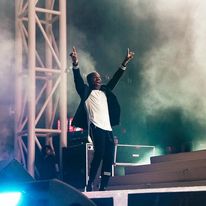 Have you yet listened to this amazing song titled 'Again' by Kirk Franklin? This impressive song deserves a place on your playlist. Kirk Franklin is an American gospel music artiste who has been committed to offering beautiful songs over the years.
This song titled 'Again' is just one of his numerous songs and herehe features other talented American gospel music artistes like Chandler Moore, Tori Kelly, Jonathan McReynolds and Jekalyn Carr
The lyrics of this song and the official video is available. This inspiring song promises to uplift you and encourage you in the Lord. So, don't hesitate to give it a listen today!
Use the link below to watch the video of 'Again' by Kirk Franklin.
Lyrics to Again by Kirk Franklin
See I don't know how
And I can't tell you when
When our fears will all fade
And a new season begins
But I know somehow
How the story will end
See I believe God for more
And if He did it before
He will do it again, again, again, again and again
God will do it again, again, again, again and again
I've been down before
I was born at the end
Never learned how to fly
Loneliness was my friend
So when the storm came
I looked deep in my soul
When the planet got loud
I knew just where to go
There's a secret place far above all the things I see, mmm
Where peace like a river flows to encourage me
See I don't know how
And I can't tell you when
When our fears will all fade
And a new season begins
But I know somehow, mmm
How the story will end
See I believe God for more, mmm
And if He did it before
He will do it again, again, again, again and again
It's not the end, the end, the end, the end, the end
God will do it again
See I don't mean to preach
Or try to tell you what's right
I've been rescued by love
So don't you give up the fight
There's a secret place far above all the things I see
Where peace like a river flows to encourage me
See I don't know how
And I can't tell you when
When our fears will all fade
And a new season begins
But I know somehow, oh
How the story will end
See I believe God for more
And if He did it before
He will do it again, again, again, again and again
See, it's not the end, the end, the end, the end, the end
God will do it again
I come to give you good news
We will rise up again
We will conquer the way
And by Faith, we will win
Oh, and that's good news in it
He'll provide all our needs
And forgive every sin
See, see Heaven hears your tears
When we cry out Your name
Then the healing begins
Thank you
See I don't know how
And I can't tell you when
When our fears will all fade
And a new season begins
But I know somehow
How the story will end
See I believe God for more
And if He did it before
Again, again and again
Again, again and again
Again, again and again
Said, He'll do it again, again, and again
Again, again and again
Again, again and again
Won't He do it, said He'll do it again, again, and again
Again, again and again
Again, again and again
Won't He do it, won't He do it again