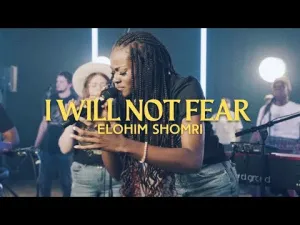 JesusCo & WorshipMob is an American worship group known for always unleashing thrilling gospel tunes. This time, they're out again with this amazing song titled "I Will Not Fear (Elohim Shomri)".
The song's title, "Elohim Shomri," is a Hebrew phrase that translates to "God is my protector," and it demonstrates faith in God's capacity to defend and supply for His people. It is an affirmation of faith in God despite obstacles in life.
JesusCo and WorshipMob, two bands renowned for their love of worship and creating unity in worship, collaborated on the song. So, do not hesitate to be among the first to get soaked in this melodious song.
Click below to stream and download for free.
Lyrics to I Will Not Fear (Elohim Shomri) by JesusCo & WorshipMob
[Chorus]
I Will Not Fear
I Will Not Fear
I Will Not Fear
The Arrow by Day
ELOHIM SHOMRI
I Will Not Fear
I Will Not Fear
I Will Not Fear
The Terror by Night
ELOHIM SHOMRI
[Verse 1]
You are my God
You never Leave me
Never Forsake Me
You are my Glory
And the Lifter of my Head
You are my God
You never Leave me
You Never Forsake Me
You are my Glory
And the Lifter of my Head
[Chorus]
I Will Not Fear
I Will Not Fear
I Will Not Fear
The Arrow by Day
ELOHIM SHOMRI
I Will Not Fear
I Will Not Fear
I Will Not Fear
The Terror by Night
ELOHIM SHOMRI
I Will Not Fear
I Will Not Fear
I Will Not Fear
The Arrow by Day
ELOHIM SHOMRI
I Will Not Fear
I Will Not Fear
I Will Not Fear
The Terror by Night
ELOHIM SHOMRI
[Verse 2]
Do not be Afraid
Do not be Afraid
Of the Arrow by Day
Do not be Afraid
Do not be Afraid
Of the Terror by Night
Be not Afraid
The Lord will never Leave you
He will Never Forsake you
[Chorus]
Fear is Defeated
Fear is Defeated
Every Fear is Defeated
ELOHIM SHOMRI
[Bridge]
He would never Leave you
Never Forsake you
He would never Leave you
Never Forsake you
His name is ELOHIM SHOMRI
His name is ELOHIM SHOMRI
His name is ELOHIM SHOMRI
His name is ELOHIM SHOMRI
His name is ELOHIM SHOMRI
His name is ELOHIM SHOMRI
His name is ELOHIM SHOMRI
His name is ELOHIM SHOMRI
His name is ELOHIM SHOMRI
His name is ELOHIM SHOMRI
His name is ELOHIM SHOMRI
His name is ELOHIM SHOMRI
His name is ELOHIM SHOMRI
His name is ELOHIM SHOMRI
His name is ELOHIM SHOMRI
His name is ELOHIM SHOMRI
His name is ELOHIM SHOMRI
His name is ELOHIM SHOMRI
His name is ELOHIM SHOMRI