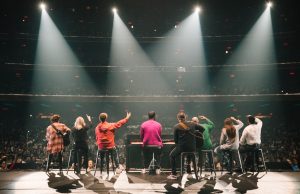 Elevation Worship is a worship music collective from Elevation Church in Charlotte, North Carolina. The group leads worship at Elevation Church on weekends, as well as performing concerts and tours across the United States.
Since its inception in 2007, the group has released multiple chart-topping praise songs and they have sold over 2.5 million albums in the United States.
Elevation Worship is noted for their powerful and uplifting worship music, which attempts to connect people with God. Their music reflects the church's emphasis on encouraging people to establish a deep and personal relationship with Jesus Christ.
Click on the link below to have a beautiful listen:
Lyrics to Been So Good & Goodness of God by Elevation Worship
[Verse 1: Tiffany Hudson]
I call You faithful
For the promises You've kept
And every need You've met
Lord, I'm so grateful
You were with me every step
And I never will forget
[Pre-Chorus: Tiffany Hudson]
When I think of how You've blessed me
How Your hand has never let me go
Never let me go
[Chorus: Tiffany Hudson]
You have been so good to me
God, I can't believe how You love me
What a friend You have been
So good to me
God, I can't believe how You love me
What a friend You have been
[Verse 2: Tiffany Hudson]
I call You Savior
For the blood that washed me clean
For the wrongs that You redeemed
I know You're able
My eyes don't have to see
One more reason to believe
You might also like
No Body
Elevation Worship
​bread & butter
Gunna
You're Losing Me (From The Vault)
Taylor Swift
[Pre-Chorus: Tiffany Hudson]
When I think of how You've blessed me
How Your hand has never let me go
Never let me go
[Chorus: Tiffany Hudson]
You have been so good to me
God, I can't believe how You love me
What a friend You have been
So good to me
God, I can't believe how You love me
What a friend You have been
[Bridge: Tiffany Hudson]
For every morning
For every open door
I call You faithful
I just wanna thank You, Lord
For every mountain
For every time You brought me through
I call You faithful
I just wanna thank You, Lord
For Your forgiveness
For how You never turned away
I call You faithful
I just wanna thank You, Lord
For Your salvation
You paid the price I couldn't pay
I call You faithful
I just wanna thank You, Lord
I just wanna thank You, Lord
(Oh, what a friend You've been)
And I just wanna thank You Lord, yeah
[Chorus: Tiffany Hudson]
You have been so good to me
God, I can't believe how You love me
What a friend You have been
So good to me
God, I can't believe how You love me
What a friend You have been