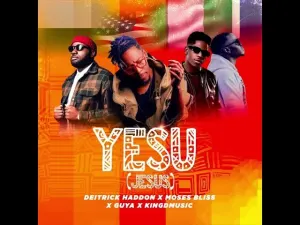 Be the first to check out this newly released hit titled "Yesu" by American award winning gospel artiste Deitrick Haddon.
Deitrick Vaughn Haddon is an American gospel singer, composer, pianist, arranger, record producer, pastor, and actor. He is most known for his work in modern and progressive gospel.
Additionally, he is a cast member of the reality series Preachers of L.A. on Oxygen.
"Yesu (Jesus)" is a gospel song by the Grammy-nominated gospel artist which features Moses Bliss, Kingdmusic, and Guya.
To get  this enthralling song, kindly click on the link below.
Lyrics to Deitrick Haddon Yesu (Jesus)
Verse 1 (Deitrick Haddon)
I'm an international singer
Yeah imma kingdom believer
Yeah I was being in America
But my roots come from Africa
I dance to the rhythm of love
Freedom is in my blood
No chains holding me
All because of Jesus
This generation
Won't even say the name of Jesus
The Devil's a liar
He's nothing but a deceiver
HOOK
Jesus
Tell me what you know about him
Jesus
I really can live without him
Jesus Yesu
Jesus Yesu Yesu
Verse 2 (Moses Bliss)
Fall to your knees
Bow to the King
Sound the alarm
Make it loud for the people
Stand at attention never at ease
Kiniyun eya Judah don Dey reign o
Mutumina allow me to introduce
The reason all my sorrows
Ooooohhh o ti lo
I'm gonna sing it on top of my voice cause I know say
No competition
More than a beacon
Made me the light of the world
On a mission
Died on the cross
And rose from the dead
And over and over again
I'll be praising JESUS!
Hook
Verse 3 (KingDMusic)
Igama Lakhe liyasundisa (His name saves)
Jesu uyangi philisa (Jesus, in you I live )
Dunzini la lufu ndi na mulisa (In the valley of death, He is with me)
Na madembe ua a ita (He still performs miracles)
Ahuna ane a mufhira (No other name is above His name)
Mudzimu wanga uya zwikona (My God is able)
Kana ndi kho lwala u ya mphodza (When I'm sick He heals me)
Ndi khosi ane ua mbona (God knows my name)
Ahuna ahuna ano fana naye (No one is like Him)
Angekho angekho onjengawe (No other God like You)
Verse 4 (Guya)
Everybody put your hands up high
If your down lift your head To the sky
Put your war clothes on
Time to man up
Join in the movement
Everybody stand up
His name is above every name
Jesus is the coldest in the game
I wanna hear them shout it in the streets
He's the goat undefeated means he can be beat!
Join the movement
Everybody
In the name of Jesus
In the name of Jesus
Power in the name of
In the name of Jesus
In the name of Jesus
In the name of Jesus
Power in the name of
In the name
In the name of Jesus
Jesus
Jesus
Jesus
Jesus