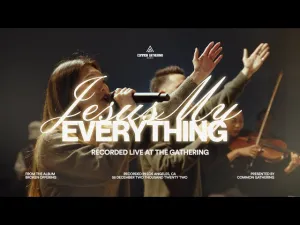 "Jesus My Everything" is a worship song by Common Gathering, a gospel worship band based in the United States.
The song is a heartfelt declaration of the singer's unshakable faith and trust in Jesus Christ. It starts by acknowledging the power and majesty of Christ, stating that He is the ultimate source of love, grace, and forgiveness.
The lyrics go on to describe how Jesus has transformed the singer's life, giving them peace, joy, and hope. This sosng is a must-have on the playlist of every gospel music enthusiast.
To get this song, kindly click on the link below:
Lyrics to Jesus My Everything by Common Gathering
What can satisfy
What only You can fill
The longing to be known again
Desperately I seek
A cup that won't run dry
Fill me with Your love again
Purify my heart
My one desire
To lay at Your feet
Jesus I give to You
Every part of me
My everything
Surrender all my crowns
Count it all as loss
You're everything
What can bear the weight
Of all my sin and shame
There's only one found worthy
There upon that tree
Your blood poured out for me
You rose to bring me back to life
Purify my heart
No matter the cost
You're the only song I sing
All my hopes, all my dreams
Surrendered at Your feet
Every heartache and defeat
Lord have Your way in me
I was made to bring You glory
For all eternity
Jesus You are worth my everything