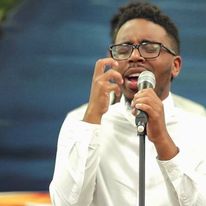 Chandler Moore's hit single "Crazy Love" features amazing collaborations with Maverick City and Noah Schnacky. This song is likened to the Bible verse in Romans 5:8, which speaks about God's unconditional love for humanity – even while we were still sinners, Christ died for us.
Chandler Moore's voice, along with the talented performances from the collaborating artists, truly brings out the depth of the song's message.
"Crazy Love" is a glimpse of God's unconditional love for humanity and will leave you feeling uplifted and empowered. The duration of  the song is 5:58 and it's a must-listen for fans of Gospel music, as Chandler Moore, Maverick City, and Noah Schnacky deliver a flawless musical performance that will leave you in awe of God's amazing love.
So hold onto your dancing shoes, because these artistes are here to rock your socks off!
Take a good view here:
Lyrics to Crazy Love by Chandler Moore, Maverick City & Noah Schnacky
Verse 1
I didn't know the love but I heard its stories
Took my by surprise when I saw it coming
Somehow I knew the voice when I heard it calling
Don't have it figured it out but I do know one thing
Pre-Chorus
You can try fighting
Deny it
But it's always gonna welcome you
Try running
Try hiding
It'll always find a way to you
Chorus
Ohh
It's a crazy love
Ohh
You can't add it up
It's better than I could ever imagine
I could never get enough
Ohh
It's a crazy love
Verse 2
Love what it does and it wants to know you
It didn't need a yes when it died to save you
Pre-Chorus
'Cause you can
Try fighting
Deny it
But it's always gonna welcome you
Try running
Try hiding
It'll always find a way to you
Bridge
It'll never stop knocking
Let it in, let it in
It'll never stop chasing you down
Let it in, let it in
Why are you still waiting
Let it in, let it in
Love is never gonna let you miss out
Let it in, let it in
Tag
I could never get enough
Of that crazy love
It's ready for your shame and mistakes
Love will do whatever it takes
There's nothing that His love won't embrace
Let it in, let it in