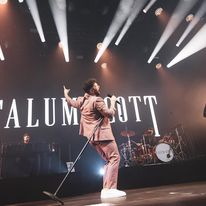 Calum Scott is a singer and songwriter from England. He was born on October 12, 1988. He rose to notoriety in April 2015 after appearing on the ITV talent show Britain's Got Talent, where he performed his version of Robyn's hit "Dancing on My Own" and received Simon Cowell's Golden Buzzer.
Following his sixth-place finish in the competition, he released his version as a single the following year, which reached at number two on the UK Singles Chart and became Britain's best-selling single of the summer of 2016.
Since then, Scott's unwavering dedication has shown in his creative works as he relentlessly pursues excellence. His latest contribution, "At Your Worst", is another beautiful track worth checking out.
Don't miss your chance to enjoy it by clicking on the link below.
Lyrics to At Your Worst by Calum Scott
You know I'll love you at your worst (At your worst)
Be right beside you when it hurts (When it hurts)
Don't you know I would die for you?
The least that you deserve
You know I'll always put you first (Put you first)
Do anything to make it work (Make it work)
I would go anywhere for you
Across the universe
I'd go all the way to love you
I'll be there when you say you need me
On the days when you don't believe me
I'll find all the ways to love you
And as long as my heart is beating
I'll be there with you, please, believe me
You know I'll love you at your worst
And I know sometimes the days get heavy (Oh, yeah)
And I know sometimes the life can get you down
But I promise I'll be right beside you
You know I'll love you at your worst (At your worst)
Be right beside you when it hurts (When it hurts)
Don't you know I would die for you?
The least that you deserve
I'd go all the way to love you (All the way to love you)
I'll be there when you say you need me
On the days when you don't believe me
I'll find all the ways to love you (All the ways to love you)
And as long as my heart is beating
I'll be there with you, please, believe me
You know I'll love you at your worst (All the way, all the way, all the way)
Be right beside you when it hurts (All the way, all the way, all the way)
Don't you know I would die for you?
The least that you deserve
You know I'll love you at your worst (All the way, all the way, all the way)
(All the way, all the way, all the way)
Don't you know I would die for you? (All the way, all the way, all the way)
The least that you deserve
You know I'll love you at your worst