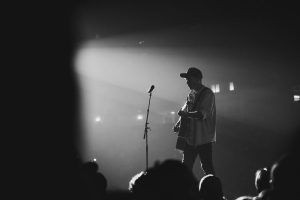 Brandon Lake is a GRAMMY® Award-winning singer-songwriter from Charleston, South Carolina. His purpose as a worship leader for gatherings across the country is to call followers of Jesus into a posture of freedom and confidence—creating space to proclaim truth.
Lake has received five GRAMMY® nominations over his professional music career. In 2022, he received his first GRAMMY® for "Best Contemporary Christian Music Album," for the album Old Church Basement.
He's back with a new song called "Coat of Many Colours."
Click on the link below to listen to this beautiful melody.
Lyrics to Coat Of Many Colors by Brandon Lake
[Verse 1]
I am clothed in a coat of many colors
I am wrapped in the light
I am held in the arms of a loving Father
[Pre-Chorus]
Who was lying in a pit
But I'm walking the palace now
'Cause once I was a beggar, now I live in the King's house
[Chorus]
Because, red was the blood that saved me
White was the light that pulled me from the dark
Gold was the crown You placed upon my head
That showed me who You are
With mercy and grace
I've been embraced like no other
I gave You my heart
You gave me a coat of many colors, many colors
[Verse 2]
Somеtimes your worst enemiеs turn out to be your brothers
I know You understand
'Cause I've got dreams that can seem to give me trouble
[Pre-Chorus]
Was lying in a pit but I'm walking the palace now
Once I was a beggar, now I live in the King's house
[Chorus]
Because, red was the blood that saved me
White was the light that pulled me from the dark
Gold was the crown You placed upon my head
That showed me who You are
With mercy and grace
I've been embraced like no other
I gave You my heart
You gave me a coat of many colors (Yeah, yeah)
Many colors, many colors, many colors
[Bridge]
I wear my coat everywhere I go
I wear my coat
I want the world to know
I wear my coat
Everywhere I go I wear my coat
I want the world to know
I wear my coat
Everywhere I go I wear my coat
I want the world to know
I wear my coat
Everywhere I go I wear my coat
I want the world to know
[Chorus]
Red was the blood that saved me
White was the light that pulled me from the dark
Gold was the crown You placed upon my head
That showed me who You are
With mercy and grace
I've been embraced like no other
I gave You my heart
You gave me a coat of many colors, ohh-ohh
Many colors, many colors, many colors, many colors