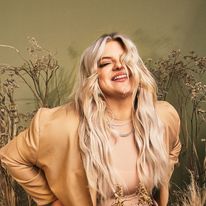 Anna Golden, a renowned worship leader, gospel artist, and songwriter from St. Louis, Missouri, has recently released her latest tune titled "Get Your Glory." She has also collaborated with Todd Galberth on a new version of the song.
"Get Your Glory" is a powerful worship track that speaks about seeking God's glory and surrendering to Him completely. The song highlights Anna Golden's dynamic vocals and Todd Galberth's captivating voice, making it an excellent collaboration. This new version of the song is expected to bring in more listeners to Anna Golden's music.
You can stream "Get Your Glory" by Anna Golden by simply clicking on the link below.
Lyrics to Get Your Glory by Anna Golden & Todd Galberth
You can get Your glory out of me
Jesus, bring a new song
Out of my trials
Out of my pain
Jesus, precious Jesus
Oh that my whole life
Would bring You praise
Get Your glory
Get Your glory
Get Your glory out of me
Every drop
Every ounce
Get Your glory out of me
Jesus, bring a new song
Out of my empty
Out of my graves
Jesus, bring Your power
Oh that my whole life
Would shout Your name
You are worthy of it all
You are worthy of it all
You are worthy of it all
You are, You are
Jesus, bring a new song
Out of my suffering
Out of my night
Jesus, in the pressing
O let the fragrance
Of worship rise