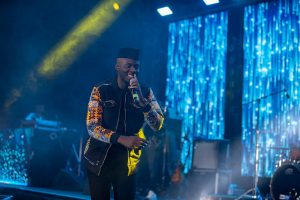 The new song "Answers By Fire" by Pompi, which features Limoblaze, is available for immediate download.
The song encourages listeners to put their faith in God and allow Him to grant their requests in an amazing way. Pompi is a Zambian gospel afro beat artiste who has built an incredible career in the African gospel music world.
Limoblaze, on the other hand, is a gospel artiste from Nigeria who is also known for gospel afrobeat. Together, they merged to dish out this beautiful track.
Anyone who desires to develop a strong relationship with our Creator and become closer to God should listen to this song.
Click on the links below to stream, listen and download this nice piece:
Lyrics to Answers By Fire by Pompi ft. Limoblaze
Enemies of Progress
They see a Tree
I see a forest
And if God is for us
Who shall I fear?
Baka sebenzapo
Uzakachokapo po po
Osa ole moyo ooo
Osa ole moyo
My God, He answers by fire
Yesu niwa muyayaya
El-shadai my provider
Praying I'm never gon' tire
Limoblaze yo yo yo
I've been round the world and it's true
That your love overwhelms me still (e de blow my mind oh)
Cause what is this love
That you show me everyday oh
You de pamper de boy
I don't know what is this (what is this oh?)
I call you my Jireh
Coz you are my provider
You no doh me
Shey na you dey
Who de wake me up every morning…
And I know that…
That from now til December
Only you no fail me never
Coz my God, He dey answer by fire oh
Yesu niwa muyayaya
You might also like
Shamboko
Pompi
Pole Pole
Pompi
Qualified
Pompi
My God, He answers by fire
Yesu niwa muyayaya
El-shadai my provider
Praying I'm never gon' tire
One day they gonna know your name
Selling umbrellas in the rain
Your life will never be the same
Selling umbrellas in the rain
Baka sebenzapo
Uzakachokapo po po
Osa ole moyo ooo
Osa ole moyo
My God, He answers by fire
Yesu niwa muyayaya (He dey answer by fire oh)
El-shadai my provider (El shadai he dey provide for)
Praying I'm never gon' tire
My God, He answers by fire (Cause you answer by fire oohh)
Yesu niwa muyayaya (Oh no no no no)
El-shadai my provider (You are my only provider)
Praying I'm never gon' tire